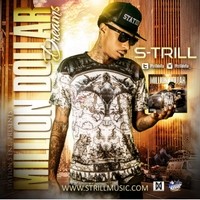 Richmond, Virginia born budding hip hop star S-Trill moved to the Newport News of the state when he was seven years old following his father's death, but success sprang from the tragedy. S-Trill went on to soon become a decorated and respected basketball prodigy, but his talents on the court never displaced his blossoming love for being an artist and entertainer. His family and friends alike provided the final impetus as their encouragement to pursue those dreams further inspired S-Trill to connect himself with important movers, shakers, and talents in the hip hop game like Goldee Heart, Marigold Productions, and Dream Consulting Management. His new single "On the Phone" underscores the hands on approach he takes to his music, rather than allowing himself to be shaped and groomed according to the vision of others.
DIGITALPOOL: https://digitaldjpool.com/Songs/149739/S-Trill-On-The-Phone-Dirty
There's some clusters of electric piano notes opening the song with a bit of voice over mixed in. The song soon begins in earnest with understated rhythms pushing things along and tastefully employed fills from the aforementioned electric piano and some other synth touches. The glittering sheen of color filling this song remains steady throughout, but his musical vision for the track doesn't stop there. There's been great care obviously exercised with the vocals and there's even a smattering of guitar added in the song's second half and near its end. With a running time at just over three minutes, S-Trill clearly understands the need to never test his listener's patience and manages to make a complete musical and lyrical statement without ever coming across as rushed or inordinately plotted out. The contrast of voices in the song is one of its highlights and juxtaposing S-Trill's vocal delivery with a more traditional vocal track makes for some compelling listening.
The lyrical content of "On the Phone" is squarely within the realm of reality, embraces some of the genre's typical tropes, but demonstrates a signature style that sets him apart from his contemporaries. S-Trill's phrasing shows great attentiveness to the musical backing rather trying to impose his will on the song and it makes for a more unified performance, but the phrasing also makes the lyric mean more thanks to the low key, yet assertive, manner he puts into the performance. As mentioned before, he never really attempts to dominate the song, and working together with it makes the overall impact on the audience considerably deeper than it might have otherwise been. This is the sort of single that later ends up on a greatest hits collection or later observers point to as a crucial turning point in the early career of an important artist – S-Trill's "On the Phone" will find mass acceptance from fans of the genre and newcomers to S-Trill will be undoubtedly impressed by his skills.
I-TUNES: https://itunes.apple.com/us/artist/s-trill/491195404
Jason Hillenburg