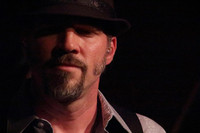 Guided by the nicotine and bourbon bruised vocals and songwriting of Brandon Butrick, a.k.a. Django Mack, 100 Page Tattoo is the latest release from an Americana/singer-songwriter themed outfit whose previous studio platters have established them as one of the more imaginative and potent musical forces working today. Butrick handles the bulk of the songwriting, alongside significant and secondary contributions from bassist Tom Donald, among others, and exhibits a strong personal touch while striking a familiar note for listeners. Donald assists with production as well and, undoubtedly, his artistic partnership with Butrick results in the six songs on the 100 Page Tattoo EP presenting an uniquely unified musical vision far outstripping comparatively paltry offerings from their contemporaries. It is difficult, at this late date, for any performer or group to come along, utilize a time tested form like blues, and impress listeners with their originality. Django Mack clears that bar with room to spare.
URL: http://www.djangomack.com/
The title song sets a definite mood. Tim Vaughn's drumming holds everything together and sports post-production effects that enhance the sound in an evocative way. There's a light slinky feel to the musical arrangement owing much to the blues, but it whips up a layered soulful mood and uses horns to great effect. Butrick's vocals definitely reflect the influence of later Leonard Cohen, but never outright imitative. "Lookout!" has a heavier presence of guitar, but it's well balanced with some horn vamps peppering the arrangement and nicely employed backing vocals. Rich Flynn takes a particularly strong guitar solo. The airy acoustic bounce of "Knock Me Down" is the EP's only song without Butrick's songwriting output and still sounds cut from the same cloth as any of the other tracks. The melodic strengths of this song culminate well with a strong chorus and the lyrical content connects with a mix of the suggestively personal and universal.
The lightly ominous atmospherics powering "Knife Fight" faintly recalls Zuma era Neil Young and Crazy Horse with a more theatrical focus on the vocals. Theatrical, in this context, works marvelously well. There are never any hints of bathos or melodrama diluting the impact of Butrick's singing, the playing, or lyrical content and this track is, arguably, the EP's best moment. Likely name-checking, to some extent, the classic rocker of the same title, Django Mack's "Roadrunner" has a definite sense of humor, but the observational skills present in the writing are top notch and never facile. The performance retains its good time vibe throughout without ever trying one's patience and the clever lyrics deserve mention as one of the best "car" songs in recent memory. The EP's finale "Rooster in the Henhouse" has a note of the raucous unique to the EP, closer to rock and roll than blues, and Butrick drops much of his earlier vocal affectations in favor of a more straight-forward approach that pays off. This is a dead certain crowd pleaser in the making and its slightly leering, lascivious humor is ultimately life affirming. Tim Vaughn's drumming deserves special mention for being a relentless engine driving this track on to a satisfying conclusion. 100 Page Tattoo shows impressive diversity in a condensed space and should whet appetites for the band's next full length studio album. This is a unique band – one capable of entertaining the hell out of any given audience and delivering songs with some genuine weight to their content.
AMAZON: https://www.amazon.com/100-Page-Tattoo-Django-Mack/dp/B07863J894
Jason Hillenburg