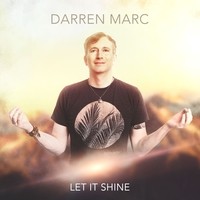 Darren Marc sings with a light and graceful spirit on the reassuring "Let It Shine". Throughout the entire Darren Marc explores the importance of faith and how it can change a life. Effortlessly blending folk, country, with a timeless tasteful approach to storytelling the album is imbued with a strong sense of optimism. By far the true heart and soul comes from Darren Marc's gorgeous voice that radiates contentment. Arrangements truly glow as Darren Marc balances the sound, always full of life and allowing for a great deal of space to let every note linger in the air.
Audio: https://www.darrenmarc.com/latest-music
"Home Sweet OM" sets the tone for the entire album, with gentle guitar playing. Things veer into a chamber pop approach on the warmth of "Love and Grace". Elegant strings and piano intermingle in perfect harmony with the joyous "Refugees". Darren Marc's voice lifts "Refugees" up and makes it one of the highlights of the album. A simple yet poignant beat holds steady on "Love It Then Let It Go". Rather luxuriant in its gorgeous dreamy haze is the welcoming presence of "Let It Shine" where Darren Marc explores a sense of community. With a Bossa Nova flair is the languid grooves of "Heaven Is All I See". Messages of pure positivity pour out of "Love Is The Reason". Layer upon layer of sound work wonders on the spellbinding stories of "Freedom".
On "Let It Shine" Darren Marc proves to be a fine addition to the singer-songwriter tradition.
http://www.facebook.com/darrenmarc111
By Jason Steiner