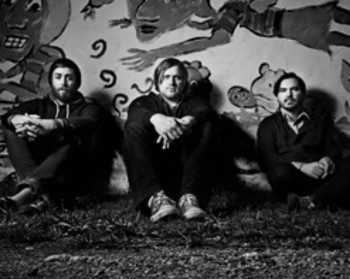 It starts with a soft synthesizer pulse and the warm, clear, inviting voice of singer Patrick Keenan. Okay, you'll think, I know what kind of song "Heartbeats" is: it's going to be the sort of pretty, confessional indiepop ballad that wraps the listener in gorgeous sonic gauze. Then the synths start to stutter and the beats begin, and Keenan leads The Winter Sounds into a sweeping chorus that glitters like the best, catchiest hook you've never encountered on Top 40 radio this summer. The drums build with the intensity of a dance-floor stomper – and then, just when you think you've got the Winter Sounds pegged, the song explodes into a brass fanfare worthy of a monarch. Exactly one minute has elapsed, and the Winter Sounds have already introduced more interesting musical ideas than the typical band does on their entire albums.
http://www.facebook.com/TheWinterSounds/
But that's what fans of The Winter Sounds have come to expect from Keenan and the rest of the group: soaring anthems, relentless creativity, compositional brilliance at breakneck speed. Keenan's uplifting songwriting has made The Winter Sounds a draw on the regional concert circuit – the band is based in Music City – and they'll be touring across the South, Midwest, and Northeast later this summer in support of "Heartbeats." Maximum Reality, the group's fourth album, comes out this autumn – and it's poised to introduce The Winter Sounds to a much wider audience than the band has ever enjoyed before. It's only a matter of time before indelible choruses like the one in "Heartbeats" are stuck in the heads of listeners nationwide.
Keenan's imagination – and his taste for grandeur – extends to the music videos he makes for The Winter Sounds. For the "Heartbeats" clip, he's brought the band to Estonia, and captured the green fields and blue skies around a country farmhouse in full and glorious color. Although the feel of the video is dreamlike (Keenan spends at least part of it in bed in the farmhouse), the footage of the natural world is crisp, exact, and breathtaking. Here's a canopy of trees billowing in the wind, furrows cut in a field by plows, insects buzzing and crawling on the supernaturally green leaves of plants. Everything is suffused with radiance.