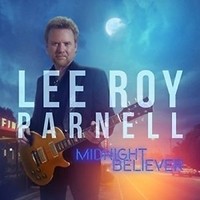 Lee Roy is the Texas music legend associated with country music that grew up playing rock and roll. This release has a lot of everything including a blues vibe to it. Lee Roy collaborated on all of the songwriting with Greg Barnhill. Lee Roy plays all of the various guitar parts. electric, acoustic, slide, etc., on this release.
Hours In Between has a nice haunting vibe, with some nice licks. There are some nice ballads on this, including Midnight Believer, the love song Pontchartrain, and Too Far Gone. Sunny Days is a really nice piece, with some great acoustic and slide guitar. Want Watcha' Have is a mid-paced song with envy related lyrics. Hair Of The Dog is a real old school blues styled tune. Going Uptown is a jumpy Cajon type song with some slide work that Harry Connick Jr. would appreciate. Tied Up And Tangled is a catchy slide guitar led honky-tonk styled song. Some Time Ago is another nice slow song that has a nice feel to it.
Lee Roy has a voice that complements everything he writes. His guitar style covers just about every genre out there. He is a master at mixing different styles throughout one song. There are a few spots throughout with keys and B3 and background harmonies, but they are mixed in nicely as not to override the guitar work. A lot of slower ballad type offerings here, laden with neat guitar work. You can take a lot of these songs and picture another artist of your choice covering them, which will probably occur at some point.
By R.M. Engelman