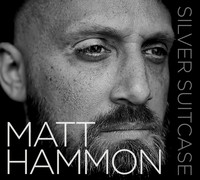 The bulk of Matt Hammon's mainstream reputations rest with his tenure as drummer for Husker Du guitarist and songwriter Bob Mould, but his indie rock credentials extend much further. A little digging will turn up his time as a founding member of two well-regarded bands, Mineral and The Gloria Record, based out of Austin, Texas. A Texan himself, Hammon's debut solo album Silver Suitcase showcases musical ambitions and talents matching his outsized home state in scope while pushing forward with an artful flair few of his contemporaries bring to their lyrical content. Hammon's intelligence and songwriting acumen are significant parts of the story for Silver Suitcase, but the daunting task of playing every instrument on the release, tackling the mixing, and managing the song arrangements gives us the full picture of his achievement. This is record making as an auteur process; Matt Hammon's Silver Suitcase is the purest distillation of his talents at this place in time and will leave precious few unimpressed.
The anthemic aspects of the songwriting are apparent on the first track. "Pictures" has clashing, rough-hewn guitar flourishes that are reaching skyward from the first and line up very well with the song's breezy, relentless pulse. Hammon has an ideal voice for the material that's part power and another part melodically graceful with a natural register befitting this sort of rock sound. The strong sense of structure in his songwriting continues with the guitar rave up of second song "The Table". Despite the big sound, Hammon's songs are obviously pared down to their essential elements and make even more impact thanks to their lack of wasted motion. The vocals have a more diffuse effect on listeners thanks to some post production effects obscuring the lyrics, but the music comes across with a finessed post-punk energy that engages anyone listening. A brief snippet of synthesizer opens "Never Say So" and, while the song soon settles into a muscular rock groove, there's a much lighter touch here than we hear in the aforementioned tunes. The guitars don't assume such a dominant role and, instead, are aimed towards more compositional ends. Hammon's songwriting clearly understands the value of a good chorus and this track sports one of his best moments in that area.
"As A Child" moves away from the typical rock strut that's defined much of the performances so far and, instead, pursues something much more atmospheric and orchestrated. Hammon's voice shows great flexibility here in the way he takes on a much more elegiac, lonesome tone than we've heard from him until this point. The song is one of his finest moments lyrically and the singing shows a performer clearly invested in conveying their message. "Silver Suitcase" continues the exceptional lyrical content and sets up perfectly with a deliberately paced and uncluttered performance. The ringing guitars transition nicely from one passage to the next with a little nuance and a faint hint of dissonance, but Hammon's bass playing and drumming deserve particular mention for how well they set things up for the guitar and his singing alike. Another of the fine songs on Silver Suitcase comes with the emotionally stormy and churning "Colorful Regret". He does a magnificent job of realizing the song's crescendos and keeping things just enough unexpected that the listening experience seems fresh. This comes off as an intensely personal statement, but Matt Hammon's Silver Suitcase is also an accessible and readily engaging rock album for the century's second decade grounded in fundamentals and still putting off thoroughly modern sparks.
INDIEGOGO: https://www.indiegogo.com/projects/matt-hammon-silver-suitcase-album-release-music
Jason Hillenburg