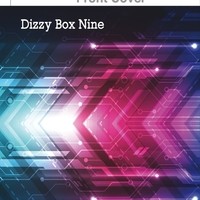 Dizzy Box Nine blend their improvised-pop rock with the styles of bands like Blink 182, The Cars, Train and Tom Petty. This can't be bad for anyone, and they prove that on – Electric Illusion, their new 12 track full-length album. They manage to forge their own thing out of a three-minute pop song. They do this by economically fitting everything needed into one track, without making it sound too prefab. That is not an easy thing to do, and they get a recommendation for that much alone. The album features the track "Good" for starters, but truthfully, it's all pretty good.
The disc kicks off with "Open Up To Me" and gets strong results. But it goes by pretty-fast because as mentioned, these songs don't crack the four-minute mark. However, some stick better than others, even though every track is good in its own-right. The guitar fills are excellent, and that's the first thing that stands out about the song, the album and the band.
The next track, "Oh Yeah" starts with a sharp riff that proves said point about the guitar playing. This one is also backed by some fine acoustic playing. The vocals take a step up on this too. So catchy it can't be denied, try it and see.
The production isn't necessarily the best, but these songs don't need a lot of gloss that way. They have a garage-pop feel to them that seems to work. "Good" is up next and it sounds like a six-minute song with it's many different parts, but in reality it's only slightly above 3 minutes. You keep singing along, "I'll take you anywhere with me, yeah". And that's where their magic lies, the songs just kind of hold onto you, and you kind of hold onto them as well. You can't hear "Good" without acknowledging how it defines its own title. The chorus repeats so many times that you can't seem to get it out of your head. It's an obvious single, no question about it. It sounds like they took their sweet time but didn't over-do it.
"Fantasy" is another standard track on the album, with its flowing chorus from beginning to end. This is another example of how sticky the songs are, which stay in your head while the next song starts playing. More acoustic lines compliment some clever and interesting fuzzy electric playing.
Speaking of acoustics, "Rosie" is an acoustically driven track at a steady point on the album. It's hard not to like it surrounded by what it is, with the lyrically clever "Punk Rock Girl" following it up well. Many of us can relate to that song. Tracks like "Crazy Superstar" continue in rapid fashion, and "Adeline" once again showcases some excellent lead and rhythm guitar playing. It's pretty rocking without being over the top. So is "Tell" with its more "outdoorsy" vibe. Then you get more rocking with the next track before closing with "Samantha" which displays a nice guitar solo to close the song.
Randy plays most of the instruments on this record, and recorded it and produced it as well. Lawrence Dunlap also plays drums on several tracks and displays solid drumming abilities. Electric Illusion is a memorable independent pop record that will be liked by most.
CD BABY: https://store.cdbaby.com/cd/dizzyboxnine
Larry Toering