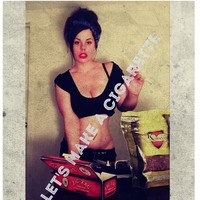 Brooklyn based singer Blakeley is out with a new album called Sin Cider- on it is the single, "Caffeine & Nicotine". Blakeley is an artist that lets you know exactly who she is and what she's about. A quick look at her website shows her personality rather clearly, but you can dig through her social media accounts if you want a better taste. I think it's an important part of her music, to know the person behind it.
She has the aesthetic that we as a society came to associate with legendary artist Amy Winehouse. Tired, more than a little screwed up, gorgeous in a way you wouldn't expect, and certainly not someone you'd like to piss off. It's a relatable set of traits, though sometimes intimidating and off-putting to the wrong audience. They're the type that doesn't play around, that builds a wall while still managing to be vulnerable in a way that only music can really show it.
No, while "Caffeine & Nicotine" isn't the greatest song I've ever heard, it's real in a way that I can't ignore. Blakeley is very open about her dependency on both vices, so the fact that she has an entire song dedicated to both is not surprising in the slightest. I love the lyrics- they're simple but the point is abundently clear. It's very relatable to a wide array of listeners- hey, you have to function somehow, right? Personally, neither are my poison of choice, but I get the addictive qualities and the dependency that she sings of.
The song itself is upbeat, with a bright tempo that gives me my own little bit of motivation and liveliness. Blakeley's voice is soulful and just has a touch of the gravelly tone you'd assume she would possess just by looking at her. It's nice, it fits with the music, and it gets the (admittedly simple) point of the lyrics across nicely. You can almost hear the exhaustion, the frustration, that comes with not having what she needs to make it through the day without at least the threat of bloodshed.
There's a little bite to the song. A bit of edge that you certainly would expect, and I hope that this is a steady occurence in the rest of her album. The guitar work is fantastic and definitely worth noting. It gives the song the push it needs without overshadowing any other component. Blakeley's voice doesn't get lost and it complements the music very well. "Could go back to my old ways, but I can't go back to counting days," is a great lyric. It brings a deeper level to the song and gives you more insight than the rest of the song, which is generally complaning about the effects of not having them vs. having them.
Overall, I very much enjoy this track, and I'd suggest checking out the full album, Sin Cider, if this catches your eye (or your ears). Blakeley is a genuine artist and Brooklyn through and through, two qualities that will surely keep her originality alive for the duration of her career. I'll be happy to watch as she continues her journey, and I hope she never runs out of caffeine and nicotine.
Victoria Patterson