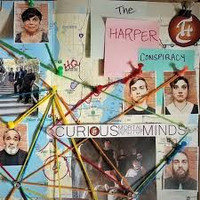 Curious Mortal Minds is an EP by The Harper Conspiracy. Its tracks are filled with melody and rocking rhythms that make it a complete danceable rock package.
It's time to fill the air around you with an addictive danceable rock. Let yourself free from the complexities of the world and indulge in the beauty of the songs of the EP, "Curious Mortal Minds" that will make you shake your legs for all good reasons.
URL: http://www.theharperconspiracy.com/
The Harper Conspiracy came up with this track to make your life on this planet a lot easier and interesting. The band consists of some talented and creative minds who came together to form a rocking band that would entice the danceable moves in individuals.
Harper (vocals/ acoustic guitar), Shaina Ward Siegel (Vocals/bass), Grant Boling (electric guitar), Philip Orozco (saxophone/harmonica) and Aidan Ward-Richter (drums) form this amazing and lively band with a unique identity of its own. Understanding each other and having consent on what they want to produce together, has helped the band members to produce the interesting and cheerful tracks of EP, "Curious Mortal Minds".
With this EP, the band invites you on a journey filled with music and rhythm where you can experience unique harmonies and whimsical lyrics. The instrumental outburst is also a plus point of the band that it uses entirely as a benefit.
With the album, the THC has proved its fame is for a musical reason and for its love for music. The EP includes songs which make you fall in love with your own moves. Each of the song takes you to different journey altogether. The track "Journey" prepares and invites you to a post-psychedelic sonic cruise that is soothing and irresistible. "Waves of Sweet Delight" takes you away on a luscious drapery of harmonic melodies and rhythms. "Wayfinding Through Time" is another interesting track of this album that offers a seasonal compass for the mortal minds and takes them on a break from the hardships of their life.
The EP ends with the track "Carry Me" that eventually carries you to a strong and well-to-do journey of spirituality. It is a humanist revival song with interesting lyrics and catchy melodies. Even an atheist will fall in love with its beauty and will fail to resist its charm.
These dance-able rock tracks with indie influences take you to a different world altogether with its musical flow and rocking melody. It is a pleasant surprise for the listeners to unveil the tracks and its smooth flowing rhythms.
The guitar solos and the clever lyrics are accompanied by powerful, strong and influential vocals, which make the song rock and add an interesting feature to it. There is a wave of sweet delight that you can explore while traveling through this musical journey.
Get ready to explore the blast of bustling performance done by the expert musical team of The Harper Conspiracy and treat yourself with a musical journey and unrivaled musical pleasure. Each of the tracks of the newly released EP of the band has its own unique USP that entices you to listen to add and show some soothing grooves. Add these to your playlist today!
BANDCAMP: https://theharperconspiracy.bandcamp.com/
9/10 Stars
Hannah Rothschild