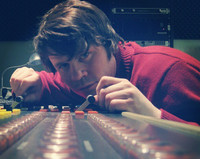 It isn't a stretch to call this a comeback album of sorts. After sharing stages with the likes of Radiohead and Jeff Buckley, among others, fate knocked Peterson out of the box with a spinal injury rendering him partially paralyzed for several years and unable to record or perform. It is inevitable that, in the face of such trials, concerns about playing your guitar recede. Such things never entirely leave someone however. His recovering health eventually allowed inspiration to find its way back into his life and, soon enough, Peterson once again found himself thinking about music. His new full length album, The Ellipsis Album, marks the first release where he has handled all of the important creative chores – production, mastering, writing, performing, and engineering – by himself and it brings a tremendous amount of intimacy to what surely qualifies as one of the more personal song collections released in recent years.
The opener "What the Open Heart Allows" begins in a muted way but expands as the song continues on. There's an acoustic guitar working in the mix that forms the obvious base of the song, but he's built on it expertly with vocal harmonies and multi-tracked singing and the lyrics are incisive and poetic without ever lapsing into obscurity. "Unbroken" relies on a combination of acoustic guitar and circular, assertive drumming that gives his voice a firm foundation to work off. The vocal melody is particularly effective and Peterson makes the most of its possibilities with a sharply observed and heartfelt lyric. There's some more powerful drumming pushing "Far Off Places" into the stratosphere and the multi-part vocals add a lot of sonic pyrotechnics to this otherwise stripped down track. It isn't nearly as cluttered as the aforementioned songs, but there are a number of subtle instrumental touches that color in the empty spaces.
"All Roads Lead to Home" takes on a more artful direction in accomplishing its musical goals but that never means it loses its directness or ability to connect with listeners. The use of electronics alongside Peterson's more customary organic instrumentation makes for an unique juxtaposition standing out from many of the album's other songs. "Montage Song (getting stuff done)" continues that approach with an even stronger emphasis on electronic elements and vocals heavily treated with post-production effects, but it is an appropriately rousing tune considering its title. There's a biting swell of electric guitar feedback opening "Underwear" and it's a good fit for a song that's, essentially, about longing. He brings more than a little humor to the proceedings in hopes of tempering the emotions and it has a marvelous skewering effect. This is a song with a genuine hook and will definitely prove a favorite for many. The final song on The Ellipsis Album, "See You on the Other Side", has a wonderfully elegiac air fueling its acoustic singer/songwriter sensibility and Peterson sings it with unvarnished passion. It even comes complete with a harmonica break and never strikes a false note throughout. If this is a comeback, consider him back all the way.
FACEBOOK: https://www.facebook.com/bradpetersonmusic/
Jason Hillenburg