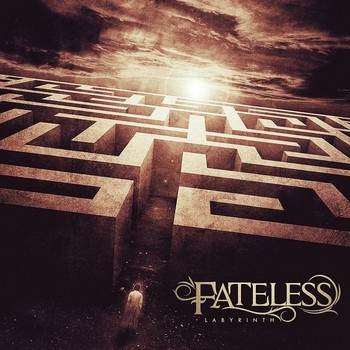 It is interesting how one band can adopt another name and still keep the music pounding.
This is the case for the band Fateless who also plays under the name Heavy Calm. The "brainchildren" behind both projects are Austin James and Daniel Salvetti. Daniel as well as the drummer Tyler O'Brien have played in other bands for years. The band's they performed with were geared towards the metal and ska genres. They eventually joined forces with other musicians to form Fateless whose style could be categorized as progressive/melodic metal while Heavy Calm is a potpourri of indie rock, orchestral, soul and melodic metal.
The lead singer of both bands Austin James came from a folk/pop background but managed to blend in and embrace the heavy rock genre. The other members Mark Adanti, Josh Gronbach and Phil Moscato performed in multiple bands in the CT/MA metal scene and bassist Spencer Hinkel-Belair brings with him a jazz influence to round it off.
Both projects reside under the Ardent Media umbrella that works as a collective of musicians with a vision to create music showcasing their passion for the art. Their vision was to bring forth high energy music with a distinct message. Each song focuses on an internal struggle or social issue that the band feels necessary to address. They have managed to blend heavy metal with melodic vocals accompanied by a bleeding desire to be heard. Heavy Calm whose sound is somewhat similar has an addition of violin and guitar harmonies and cinematic structures that are a rare sound in any style.
For the most part all the musicians have been around the music scene for quite some time. Their knowledge of music and desire to grow is displayed at every show they do. They recently headlined at the Japan NYC event at Love Craft Lounge in Manhattan. Before they formed Fateless and Heavy Calm, Daniel and the others have also played at venues like the Main Stage at the Worchester Palladium and The Webster theatre in Hartford CT.
"The Japan NYC night was fantastic. Promoter/performer at the event Riuta Reakt was a fellow performer at the Hartford CT ConnectiCon convention and he brought us on to perform at this show. It was amazing to play in the city and among many acts from Japan, and artist's influenced by the wonderful Japanese music/art culture. As I mentioned Ardent Media as a whole and each band take a lot of influence from Japanese entertainment, anime and Japanese music so to be a part of an event such as this was something we never thought possible. There was a whole lot of fantastic creativity and celebrated oddity, which embodies the beautiful entertainment of Japan. We are hoping to perform at many other conventions, and anime/Japanese culture events such as this."
Fateless is due to release a single entitled "Labyrinth" within the next few weeks. The single at its core is a metal track but does feature many transitions along with a deep chorus. Like a real labyrinth the single is laced with the struggle of mental illness and the maze that one must escape from. The track will be utilized by film artist Paul Stamper for his project. They are also working on an EP with engineer Chris Wiseman (guitarist/producer of well-known metal bands Shadow of Intent and Currents). Fateless can be compared to the sounds of Periphery, Northlane, Erra and August Burns Red.
On the other hand Heavy Calm has released their debut single "Wolves". This track that starts off harmonically soon explodes into a high energy rock song. "Wolves" is a testament to how the band can fuse different styles of music into one cohesive sound. Heavy Calm has already performed at urban art exhibits, fashion shows, indie concerts and metal nights.
Besides the single Heavy Calm is due to release their debut EP/movie which will also feature an audio release. The unique part of this project is the visual aspect of it. They are working with CT videographers Jahmil Ahmed and Aaron Ellis to create an original fantasy story that will follow all five songs and be a music video across the whole EP. The artistic part of the EP was created by Red Ten artist Cesar Feliciano.
Aside from all the studio work the guys are still booking gigs non-stop. Fateless is due to perform at a 9/11 Memorial Show at Hadley skate park in Lowell MA on 9/9. Also on the books is a debut full set show on 9/30 in Woodbridge, Connecticut at the Amity Teen Center. On the other hand Heavy Calm have show's running from 8/25 at Westfield, MA , 9/2 at Worchester, MA, 9/14 at Greenfield, MA and 9/21 at Westfield, MA.
The members of both projects are always looking to top every project they do and bring the best for their fans. To keep up with both projects just visit the links below.
https://Facebook.com/ArdentMedia
https://Facebook.com/Fatelesscollective
https://Facebook.com/TheHeavyCalm
by Nick Christophers