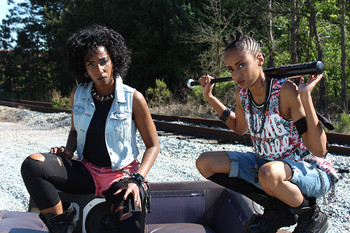 So here we are a fresh month of August 2017, it is so good to be here. I am so excited to get to kick it with the musical duo, Matrixx of Domination. They have a HUGE summer show coming up next week and if you are going to be in Atlanta, GA you should come party & witness some great music. I am so happy we got to chat with Matrixx of Domination as they gear up to take the stage. See you Tuesday night August 8 in Atlanta @ Smith's Olde Bar!
Stoli: Where are we talking from today?
MOD: Right now, we are at the rehearsal studio getting ready for our show on August 8th, 2017.
Stoli: Offer us a brief history on how you created your sound and what is the meaning behind – Matrixx of Domination
MOD: The term "matrix of domination" is a phrase coined by author Patricia Hill Collins to refer to the types of oppression that all people have experienced and how they intersect. So, one could experience challenges related to race, sex, class, gender, age and/or sexual orientation. We chose our name, "Matrixx of Domination" because we believe that our sound and music has a message. Everyone is connected somehow in this matrix, as we all are subject to oppression and challenges at some point in our life. So, we deal with many issues, along with how these challenges intersect at some point.
Similar to how the messages in our songs have intersecting meanings, our sound also overlaps into many genres. We grew up playing in classical and jazz bands, while also being exposed to R&B, rock and hip hop. So, our sound is a mix of our experience and styles.
Stoli: Were you 2 friends before the music or is this a musical relationship?
MOD: We have known each other our whole lives. We are sisters, and so we bring a unique chemistry to our shows and our sounds. Because we are sisters, we can easily piggy back off of one another when we write and while performing.
Stoli: What is life like for you in – Douglasville, GA?
MOD: Douglasville is right next to Atlanta, and so we are able to capitalize off of the diverse music scene in the city. We have an affinity for all forms of music, from classical to rock. Hence, we are able to really experience all types of music in Atlanta.
Stoli: You have a BIG show on August 8. How will you prepare and what can fans expect?
MOD: We are preparing for our show by rehearsing our vocals and stage presence daily. We meet up with our band a couple times a week to go over the entire show. It's a lot of work, but we love it.
Fans can expect to have an "experience" from our show. Our goal in each show is to connect with the audience and allow our fans to escape into another world for a little while. Each show is unlike the others and unlike what they have experienced with other bands. Our fans usually dance with us, sing with us, shout with us and jump with us. Our band is also highly skilled and helps to make the show very energetic. We love performing and connecting with our fans.
Info: https://www.reverbnation.com/show/21195603
Stoli: How many songs will you play and how do you choose the set list?
MOD: We have around 13 or 14 songs on our set list. We like to play a mixture of our original songs and various covers. Our covers range from the 90s to current age, as we want to make sure everyone is included and will has a great time. Every cover we do though as our own rocked out style to it.
Stoli: How do you expect the crowd to act when you play 'One Shot'?
MOD: One Shot will definitely surprise you. It is a mix of soul, rap, and rock. The listener is first struck by the lyrics of the song. The opening line is very captivating. After this, the listener will hear the heavy guitar lines (or rifts). Our guitarist is awesome and his part just cuts through the music. We will be performing the rock version of this song. The audience will definitely have a good time.
Stoli: What is coming up for Matrixx of Domination and where can we check you @ online?
MOD: Matrixx of Domination is currently working on touring and radio airplay. Our goal is to get on a major tour by next year and continue to push the barriers and create great music. We will also be releasing new singles within the coming months.
You can check us out online at:
http://www.matrixxofdomination.com