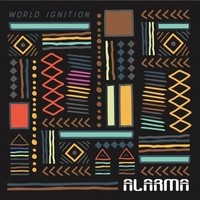 Full of hope and optimism Alarma's "World Ignition" crafts a warm welcoming world. Throughout the album Alarma's giddiness dominates the spirit, with infectious hooks peppered into every piece. Quite multifaceted, Alarma draw from a wide variety of styles running from Middle Eastern melodies to African beats, the songs feel full of life. By bringing all of this together in an almost theatrical style, the songs simply shimmer and shine. Lyrically playful, the songs have a poetic, dreamy quality to them while they go on great journeys into the unknown.
Starting things on a high note "Fire" opts for a psychedelic rush, with guitars coming together in magnificent ways. A glorious rush defines the spry "In Your Mind" where piano takes the lead adding to the majestic, stately melody. Hyperkinetic with its happiness "Wanna Go Home" offers an incredibly positive message while it drives forward with true determination. Outright inspiring, the way the piece unfurls feels reminiscent of Vampire Weekend's quirky pop-infused indie rock. Downright glorious and celebratory "Turn the Knob" possesses a great peppy groove that lets the song soar into the sky. Lounge-like with its thoughtful vibe "Negra Tomasa" possesses a lovely quality. Infectious riffs radiate from the album highlight, the mystical "Paradise". Guitar work serves the song well, as does the overall atmospheric elements. Ending the album with joyous dub influences is the electro-infused "Cumbia Step".
On "World Ignition" Alarma weaves a rich tapestry, one that is best taken in as a singular whole.
By – Beachsloth.com