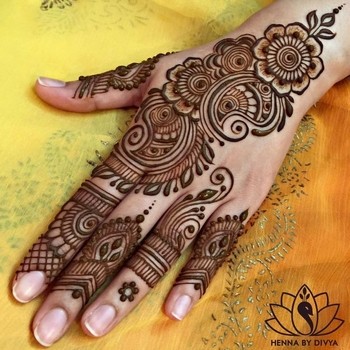 Henna is one of the essential things that no Indian bride wants to miss. It significantly adds charms to their beauty on the every special day. It is now widely popular and besides brides, bridesmaids, cousins, and other relatives also opt for henna when it comes to attending a grand wedding. This natural dye is made from the leaves of the henna tree. Nowadays, it is not only used to create amazing designs on hands but many women love to use it on their feet as well. The lavish and intricate handmade pattern will surely accentuate your D-day look. Let's check some of the best henna or mehendi designs that you can go for on your wedding.
Henna designs on the index: There are many women who love the sober and simple design. They can go for plain designs on thumb and index finger on both sides of the hand. It is quite neat and can easily be done within a few minutes. The rest of the fingers will be clean where you can put sparkling jewels.
Henna on fingers: This is another striking pattern that you may consider for your wedding. Call the professional artist to create intricate designs only on your fingers. You can choose leafy patterns or floral designs that look good on your long and lean fingers. Carry this smart henna design with golden bangles and dazzling rings.
The henna design on feet: Many brides opt for exclusive henna designs on the feet as they find it stylish. The clumsy designs on hands have become a usual style but if you go for henna work on your feet, it will definitely help you stand out distinctively in the crowd.
Floral pattern: The floral pattern is one of the most common mehendi designs that anyone can think of. Surprisingly, it still holds a special position with its fascinating patterns. This design can be applicable on both sides of your hands. Floral design is always appealing if you keep it plain and simple.
Floral designs with motifs: This is another less complicated design which can flatter anyone, irrespective of age. It will look good on any occasions. To make it more stylish, you can make some additions to it and stretch it to your arms.
Henna designs with glitter: If you want to follow the trend, go for glittery stones on mehendi. This has become the hottest trend immensely followed by the fashionable lasses. They choose to ditch the conventional mehendi design and apply the glitter and stones in between the intricate lines. Needless to say, they look absolutely gorgeous while creating decorations with the glittery objects.
Bridegroom figure: Mehendi clad hands look good on every bride. There are many designs that are known to be complicated and the bridegroom is one of them. The skilled artists can only draw such tricky art on your hands. This is undoubtedly one of the oldest designs but still, it is adored by many like you.
Designs with peacock and birds: If you want to impress everyone with your mehendi design, you should go for an intricate traditional form of mehendi art. Peacock pattern is quite common when it comes to decoration. The trained mehendi artist can create appealing designs that feature a peacock in the center of your hand.
Plain and simple pattern: If elaborated mehendi art is not your forte, the plain artistic designs will surely catch your attention. This can be drawn in many ways featuring multiple styles. From using dotted lines to curvy borders, the talented mehendi artist can give you a neat and simple design for your hands.
So get ready to steal the hearts on your wedding with the perfect henna designs. There are many more patterns that can be used differently to make it exclusive. You will get to see more fashionable designs if you search on the internet.