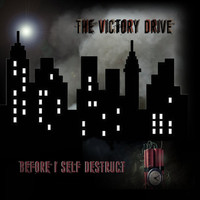 Full of passion, the Victory Drive delves into a playful sound with the joyous "Before I Self Destruct". Tying together dance, electro, and pop into an infectious whole, the songs are inviting. The Victory Drive's vocals lead the way revealing a true ear for melody. Everything feels perfectly balanced, from the careful arrangements to the small flourishes of sound that add to the overall heartfelt message that pours out of each piece. Interesting, the Victory Drive chooses a narrative for the overall collection, going from a distant sound at the very beginning and letting the songs grow closer, more intimate.
Stream: https://thevictorydrive.bandcamp.com/album/before-i-self-destruct
With great flair is the Victory Drive's inspired cover of Lady Gaga's "Bad Romance". Opening the collection, the song re-imagines the glam rock tapestry of the original in a creative way. Throughout the song, the Victory Drive lets a multitude of stylistic choices take hold. Light and airy is the blissful world of "The Countdown Pt. II". For this piece, the Victory Drive sings with a soulful delivery. Driving guitar work does wonders as does the carefully crafted rhythm that guides the song forward with a spirited, almost surreal quality. Ending the collection on a high note is the highlight of "Dynamite". Infinitely tasteful, the arrangement feels positively timeless in tone. Slowly but surely, the ballad builds itself up into a satisfying finale.
https://www.facebook.com/thevictorydriveofficial/
The Victory Drive shows off its uncanny knack for crafting memorable narratives on the warmth of "Before I Self Destruct".
By – beachsloth.com