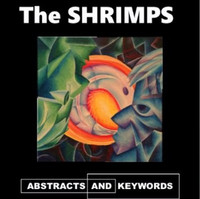 The Shrimps delve into an intimate, folksy sound with the passionate "Abstracts and Keywords". Akin to listening to close friends playing their hearts out on a porch late at night, there is something so comforting about their sound. Instrumentally the group draws from a rich variety of sound, from the choir of vocals to the neat and nimble guitars that grace the entirety of the album. Rather charming the highly articulate lyricism reveals a poetic sensibility one that informs the entirety of the album. Additionally, the Shrimps proves to be quite adept at crafting concise thoughtful songs that linger in the mind long after they are over.
Luxurious piano leads the way on the opener "Aim With the Arrow". With this singular piece, the Shrimps set the tone for the album. Even more playful is the delicate arrangement of "Make It Better". Possessing a classic sound is the spirited work of "Rebels". Summery and celebratory is the album highlight, the blissful beautiful world of "Heavy Traffic". Here the group does a fantastic job in tapping into a sense of contentment. Dusty and downright heartfelt blues of "Wings of an Angel". Sprawling and ambitious is the journey of "Top of the World". Ending the album on a satisfying note is the spiritual sound of "In the Moon". A slight tinge of psychedelic rock guides the song forward as it brings everything to a fantastic finale.
https://www.facebook.com/The-Shrimps-821060874640788/
On "Abstracts and Keywords" the Shrimps choose a carefully crafted world, one which positively teems with life.
By – beachsloth.com