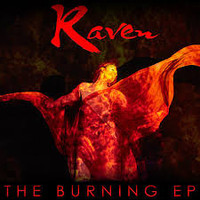 "Phoenix" was the one track to take flight off the latest and newest EP release "The Burning" by an act called Raven. Raven not be confused with Raven-Symoné of the hit Disney TV show That's So Raven, or another act by the name of Raven Black, an up-and-coming band from the Los Angeles, Californian turf. This is simply put as Raven. An artist of sorts, that has taken her hit single that is called "Phoenix" off her EP release "The Burning" and walked away with it. "Phoenix", being premiered via The Huffington Post, as a video made from the single release of course. But of course this would have Raven quoting within the article itself from Huffington post as saying "The song is an epic tribal victory within". Which as a matter of face, explains "The Burning" EP as a whole rather well.
The same goes for the single turned video for "Phoenix" of course. But besides that the EP that is "The Burning", is indeed an epic tribal experience and a victory anthem of sorts. The EP consists of just 5-tracks including that hit track "Phoenix" but includes other various tracks like "Burnin' Up", as well as "Running For Cover", and "Right Here Right Now", which had Raven writing the song herself. So to those of you who may have doubted her, this is where it is shown front and center. She has got the skills as a song writer and performer. It is clear as day within the songs just mentioned and this EP in general.
The EP and it's material within it, is eye opening, catching, upbeat, and really uplifting to say the least. It has energy within it, that makes it be that tribal stance it claims to be. If not even that, it ends up being that victory within, showcasing a true talent. The music may all of this if not more so, but the writing abilities that Raven has written here, really stands out. Lyrical context being very moving, interesting, and embracing to the ear. The music portions provided through each song is really mind bending if not mind blowing at that. The music has you smiling at all tracks portrayed. That is how moving Raven has taken her music to be as a full blown circle.
Not really sure how else to put it but that really explains it best. Raven as an artist is unique and very talented as a person. Her music is able to uplift the spirits and souls to those listening in. If not that, then it just has this ability to move you as a person. Her vocal ranges being precise to each tone of music, whereas the instrumentals beats keeps in check to every melody played. It is just able to bring it altogether into that full circle effect mentioned prior.
"The Burning" EP release by Raven may not be a Raven-Symoné or Raven Black source of works, but it is of a Raven of a different aspect. Allowing her to fly out on her own accord, to soar high into the musical sky, to let all who hear her works, take in the joy and sound of it. Is how to put it best at least.
https://www.kingdomofraven.com/home
By: Natalie Perez – www.nataliezworld.com – natalieannnperez@gmail.com