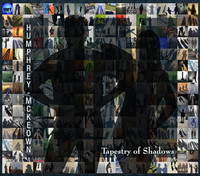 Humphrey-McKeown have been pushing themselves since early 2016, where writing began to unfold, followed by a recording process that took place that late summer into the fall of around May through December time frame. During this time the album came together as 12-tracks, going on to be titled "Tapestry of Shadows". But what does this album mean, well besides putting in so much effort as it was for it, the band has gone on to release a glimpse into it with a song called "Passing Shadows". The genre that this band goes for is a mixture of folk, rock, with those mixed together as contemporary folk rock. But before getting into detail about the track and music style, let us get some more details out there. Did we forget to mention that this band is not your regular based act of 4 or 5 members, nor is it a trio act, it is a duo act. Yes this is made up of just two people, Heather Humphrey and Tom McKeown.
Buy – https://www.amazon.com/Passing-Shadows/dp/B01N80QK2Z
That said and out of the way "Passing Shadows", takes the genres enlisted before and enhances them. The song is indeed folk rock it's made up of entirely that type of genre alone. The song sounding a lot like country but it is not. It is folk rock, having those guitars, drums, bass, as well as a fiddle with vocal chords to boot. But there are two sets of vocal chords, one done by Heather and the other by Tom. Each sharing their own abilities and aspect of the music that goes with this song. The two do their own thing, throughout the song though. Each having their own skill and mind set with musical abilities. Heather's style is calm and collected. While Tom's vocal chords are more laid back and progressive. Each of the vocal chord sets play off one another, while they may not be singing together at the same time, each one plays off one another as one ends and the other begins if you will.
The genre and instrumental work done for this song is rather catchy and upbeat. While the song may not be one for everyone it is still a song that can be heard at least once. The song is one of those you could possibly hear played within a fantasy film or television program. It just has that essence to it, with its folk rock style sense, it surely has the ability to embrace that environment if it hit that source wave.
As such, the song that is "Passing Shadows" ends up being a song that sounds interesting enough to the ear. It has the moments of being catchy and upbeat. Offering so much more as well. Like it is able to flow freely throughout its time frame, able to draw in the listener, having the song expand to be one that can even be danceable. If not that then perhaps Humphrey-McKeown, is just one of those bands, that just has that sense to create, doing what they love to do with the music, building it as it comes along.
https://www.facebook.com/HumphreyMcKeown
By: Natalie Perez – www.nataliezworld.com – natalieannnperez@gmail.com