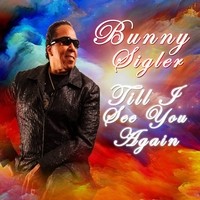 Out of the variety of artists and bands within the music scene today, a lot of them have the strangest names, to the weirdest names, down to the dumbest names, if not some other variation of a name. In the case of this particular artist who uses r&b and soul as his genre choice, he likes to call himself Bunny Sigler. Yes you read that right Bunny Sigler, the first name alone should or could make you chuckle if not giggle, because the first image that will likely pop into your head is a bunny no? Well in the case of my hearing that's what was pictured for me. My case and point here though is that Bunny Sigler has got a song called "Till I See You Again" that was then made into a single and then a video to accompany it.
So to go out of the way for song that much is saying something is it not? Well it is but that is a good thing because "Till I See You Again", is one of those songs that really captivates your soul, mind, and body. Or is it body, mind, and soul? Anyway! "Till I See You Again", is one of those songs that has an emotion to it. For one the video that accompanies this song turned single revolves around those who protect our country the men and women of the army forces, and all those other departments, navy, etc. The video capturing the emotion going through what those people families, friends, deal with when having their beloved going off to fight for them and everyone else. It is a very strong emotion to face and let yourself go through. That's what can be seen within that video, while it may just be photographs, you can still grasp onto what they are feeling and can relate in some shape or form, at least a little bit.
The song itself is filled with a lot of emotion as mentioned quite a few times already. But the song itself brings to mind, that of a classic era like perhaps the 60s to 70s time frame of the r&b soul music scene. That's what this song consists of, a lot of that pace and time of life. It just has that built up energy and motion to it. When comparing Bunny Sigler to another artist or even band it's hard to pin point someone because, while he does sound like a lot of different performers it is hard to pick out just the one or few out there.
Bunny Sigler's "Till I See You Again", is just another one of those types of songs you can hear at any time of day, at all times if at that even. It's a song and video combination that really gets your emotions and motives flowing with the tone of the music. It's got this never ending sense of beat to it, that has the track play off on a loop of repeat at times. That's how much this song can get you sucked in with its in-depth feelings. Bunny Sigler has got some pride and passion for himself and it shows deeply in this song alone.
https://www.facebook.com/BunnySigler
By: Natalie Perez – www.nataliezworld.com – natalieannnperez@gmail.com