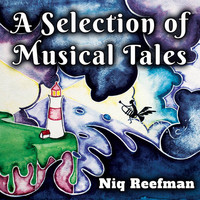 With a wonderful theatrical flair is Niq Reefman's elegant "A Selection of Musical Tastes". The true element that ties the entirety of the album together is Niq Reefman's sense of play. Lyrics reflect this absurdist strain of humor, with clever wordplay and sharp insights strewn across the tracks. Instrumentally, Niq Reefman proves himself to be a jack of all trades, effortlessly moving from trumpet to accordion to a whole slew of other unusual approaches. Best of all the album has an air of unpredictability to it, as Niq Reefman lets a lot of intricate twists and turns define the delightfully quirky sound.
Stream: https://niqreefman.bandcamp.com/album/a-selection-of-musical-tales
Not a moment is wasted on the opening funk of "Witch Doctor". From there Niq Reefman opts for an intimate style with the accordion led sound of "Close Shave" punctuated by particularly fine trumpet work. A memorable melody rests at the heart of "Glue". With a strange sound, reminiscent of Jerry Paper's odd temperament is the askew pop of "I've Got My Mojo Back". Glistening tones glide by with great grace on the luxurious "I'm a Good Boy". Rushing through is the emotionally charged swing of "Horn Of Fate". Quite atmospheric is the dreamy multi-layered of "Obligation". Ukulele adds to the twee sound of "Fishing". Inspirational to its very core is the majestic work of "In Australia" which ends the album off on a high note.
Niq Reefman neatly weaves a fine number of styles and genres into the celebratory "A Selection of Musical Tastes".
By: beachsloth.com