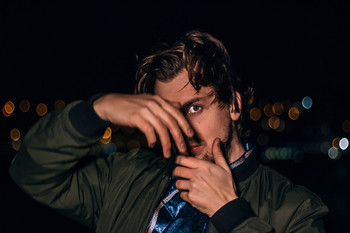 Floor Staff is pop music that plays on the contrast between the grandiose and the intimate, persona and person, exploring themes of social expectations and their accompanying anxieties.
Floor Staff is the musical moniker of Dublin based songwriter, producer and composer Anthony Donnelly. With his new EP Convictions Donnelly bravely takes this introspection to more personal depths, confronting bereavement, fidelity and self-esteem, cathartically transforming these concerns into joyous pop expressions.
Floor Staff's first release 'The Good Luck EP' received critical acclaim, resulting in substantial domestic radio play and numerous festival appearances.
"The music didn't flow as easily this time, it wasn't like the first EP where recording something original and hearing it back was enough of a thrill to inspire more. Tackling heavier subject matter took more strict self-examination. The stuff I wanted to express was less primal and immediate so it was difficult to access. As well as that the possibility of people hearing the music was impossible to ignore initially, and it affected my ability to write. Extended periods of time went by were nothing would fall into place. Eventually with strict and regimented writing sessions I was able to unlock what I'd been grappling with and the songs came."