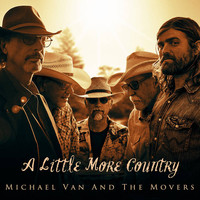 Michael Van and the Movers do soulful country great justice on the beautiful "A Little More Country". With thoughtful lyricism that attests to the hard times life brings, the songs show off Michael Van and the Movers ample storytelling abilities. Nicely framing these slices of life are the laid-back, almost dreamy arrangements that at times touch upon rock, folk, and chamber pop. The entirety of the album is anchored by the careful chamber pop style that helps to tie everything together.
A mellow introspective attitude opens the album on "A Little More Country'. Quite dreamy courtesy of some particularly fine slide guitar work the song unfolds in a gentle way. A spry rhythm drives the determination of "Skeddadle Mountain Lullaby". Sprawling and sweet is the spacious sound of "Love Me Till Thursday". Playful in temperament is the limber "Gimme Back My Guitar". Easily the highlight of the album is the casual cool attitude of "Pretty Penny". Getting lost in a beautiful stream of sound is the engrossing work of "River Road". Featuring a powerful groove adorned by careful guitar work is the sweetness of "That Train". Rather reflection and yearning for something sweeter is the kindness of "Sounds Like Rain". Bringing the album to a soothing close is the downright relaxed vibes of "Look At Miss Ohio".
https://www.facebook.com/MichaelVanAndTheMovers/
"A Little More Country" attests to the power of Michael Van and the Movers' ability to create a warm sound that invites the listener into their immaculately crafted world.
By – beachsloth.com