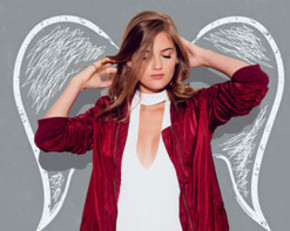 This generation of teenagers is the first to live their lives on display via social media. While some shy away, others are keen to utilize this spotlight to share their story. One artist in particular is EMELINE, a singer-songwriter, actress, multi-instrumentalist, model, activist, and entrepreneur from Providence, Rhode Island. On top of her genuine personality, she has used her tireless work ethic and talents to independently accumulate over 50k fans across social media. She knows her audience and what captivates them, first and foremost being her music. Her newest release, "Angel", is the perfect example.
http://www.emelineofficial.com/
EMELINE has been a performer since the 2nd grade writing songs, singing, and playing multiple instruments, as well as a acting professionally in theater and screen. Her career really found traction when she netted a top 100 iTunes charting singer/songwriter single, "You". This led to her current collaboration with Red 13 Studios, a Grammy nominated/Billboard charting music & film production studio. This team's first release together is the lyrically gritty, downtempo jam, "Angel".
"Angel", conceptualized by EMELINE, is a music video filled with vibrant visuals, cutting edge style, and the unmistakable energy of youth. The story revolves around a mesmerizing EMELINE navigating a late night pool party with her friends. The vibe is relaxed, fun-loving, and slightly mischievous, but despite her surroundings EMELINE can't quite help but feel isolated. When loyalties are shaken and some true intentions come to the surface, it's time for her to break with the past and forge forward with a sense of renewed confidence and pride in the strong individual she has become.