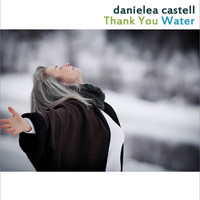 With a hushed reverence Danielea Castell celebrates the power of our mystical connection with water on the album "Thank You Water". Arrangements are stripped down to the absolute essentials and by far the heart and soul of the album rests with Danielea Castell's strong assured vocals. Lyricism is simple, intentional and presents true love for water. Since the songs come from her ceremonies with different bodies of Water, the album's optimism rests within the idea that our day to day life can be enhanced by our relationship with rivers and lakes.
Album link: http://www.danieleacastell.bandcamp.com
Setting the tone for the album is the calming spirit of "Thank You Waters." Within the glistening piano tones the song builds itself up into a meditative rhythm. A celebratory spirit enters the triumphant approach of "Great Fraser River". Far more subdued and self-reflective is the symphonic "River Song." The hard-hitting drum beat adds to the visceral feel of the jubliant track "I Am Here With You". Neat and tidy is the longing that defines the beautiful "Water Calling Me Home." Stripped away of nearly everything except voice and a drone is the ambient bliss of "Gaia Speaks." Bringing the album to a grand close is the colorful multi-faceted "We Are The Ones".
http://www.watergratitudeproject.org
True awe and gratitude for water dominates the lush and lovely sound of Danielea Castell's "Thank You Water".
By – beachsloth.com