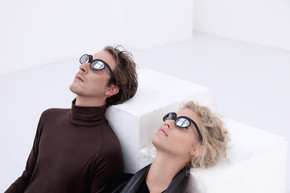 Today, February 21st, Stefanie Callebaut and Benjamin Desmet, collectively known as SX, release the first single "Vision" off their upcoming album Alphabet. Singing "you can't see through my heart / we're all sentiments," SX opens the conversation about the perception of beauty and our abilities to see beyond the surface. Inspired by the philosophy of Maurice Merleau-Ponty and a Rembrandt painting, SX creates a beautiful, inclusive visual story. Shot in Paris, Stefanie and Benjamin worked with their friends from Sankofa Unit, a Parisian Urban Gospel Choir, to find the right chemistry between perception and feeling.
SX is the Belgian band formed by Stefanie Callebaut and Benjamin Desmet. SX takes you into a exotic reality with Stefanie's raw, vigorous voice matched with Benjamin's primal percussion and futuristic digital elements. It all results in a pure, authentic sound and a class performance that never fails to amaze.
SX burst onto the scene in 2011 with their exotic track, "Black Video." The single kick-started an international tour, and they opened for bands like Yeasayer, Vampire Weekend, Ariel Pink, and Polica. Their debut album Arche came out in 2012, and included hits "Gold," "Graffiti," and the captivating "The Future." Arche earned gold record status in Belgium.