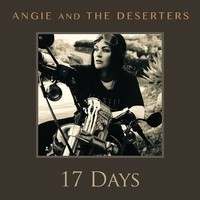 It's difficult to imagine how the luscious blues-soaked yowl of Angie Bruyere's voice hailing from upstate New York, but this Southern California transplant and her band the Deserters play gutsy and rough-hewn blues rock with the skill and sincerity needed to make it work in 2017. Her latest single from the album You, "17 Days", is a gently rollicking tale of separated love that stands tall in a tradition going back to the early days of both county music and rock. Those complementary elements drive much of her performance here and they are made individual by the unique qualities of her voice. The production surrounds her vocals with just the right amount of warmth and juxtaposes them quite nicely against the band's loose and confident performance. This is another fine effort from one of the best vocalists, regardless of genre, working today.
There's a strong thread of jangling acoustic guitar running just below the electric guitar and it creates a pleasant doubling effect during the performance. It chugs steadily over the top of tight but minimalist drumming that actually brings much more to the song than it might otherwise have thanks to the restrained, tasteful quality of the performance. "17 Days" is a track that really swings as well thanks to the rhythm section work, but it's never pronounced. Instead, it gives the song a certain swagger and straight-ahead vigor. There's some nice flourishes from the lead guitar and it sustains a even-handed melodic attack throughout the entire song. Bruyere has written a song that crescendos in all the right places and with just the right amount of uplift, so if there are familiar elements in this song for listeners, they are made new again thanks to the well tuned inspiration fueling the song construction.
Bruyere's vocals, however, are the truly rejuvenating thing about this performance. She can likely give your grocery list an artful, mournful twist if she sings it, she's that good, but "17 Days" especially throbs with all the longing and loneliness invoked in its lyric. She swings and winds through the song with phrasing as much in tune with the song's needs as any of her accompanying musicians and shows enough self control that the song gains immeasurably from her tasteful interpretation. There's plenty of emotion here – make no mistake, but it's also the product of immensely talented singer and songwriter who knows how to frame her art in the best possible light.
Angie and the Deserters prove, once more, that they are among the most accomplished purveyors of the form. "17 Days" both recalls the past and stakes its claim for rights to a tradition's future. Bruyere's voice and her songwriting quality make her ideal for being among the artists needed so that these blues and country tradition will survive to be passed on to uncertain future generations. This music could scarcely have a greater ambassador for its potential than Angie Bruyere and her band.
Jason Hillenburg