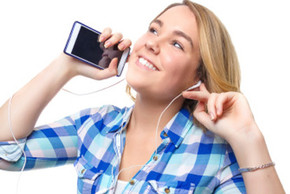 Technology is growing quite rapidly day by day and it's put so many positive effects on human life. In this internet age, you can easily get various applications for different works. Smartphone also brings a lot of change to the human lifestyle. Who doesn't love music? When the thing comes to the music app, nowadays you can find several classic music apps which are quite helpful for the people. In recent days, you can directly play music through various music streaming apps. Some apps are totally free to listening music and some applications are available with paid version. In this article, we are going to discuss some best music apps of 2017. So let's start without wasting any time!
Google play music:
This is an outstanding music app in which you can get streaming of more than 30 million of songs in its library of different languages. In this app, you can access both newly released music and old classic music. Overall, this app works as a store place of all music libraries which is just amazing. This app is quite user-friendly and the interface of this app is quite attractive and this is known as one of the most popular music apps. This is a free application and you can easily download this app on your android smart phone through Google play store.
Spotify:
It's true that there is a top competition between various music applications but still Spotify is quite ahead than other music apps for streaming music. This is a beautiful music app where you can get numbers of music both old and new. Not only music you can also access various podcasts, videos in this app. Due to these extra features of this app, it is so popular in the market.
Apple Music:
This is another popular music app which is popular with its outstanding features. For music editors, this is one of the most useful apps. You can get other features like 24/7 radio station and live DJ beats in this app. You can also get this app on Google play store. This app is quite easy to use and have a wonderful interface.
Tidal:
Tidal is a well-known music app which is launched by Jay Z is the hip-hop king. This is a fresh streaming service which always focuses on high definition music videos and high-fidelity music. This is a wonderful music app which provides high-fidelity streaming services of music. This music app is suitable for android devices and you can download Google play.
Napster:
This is a cool music app which is the newly structured app of Rhapsody's music streaming service. This app is quite simple and easy to use. This is best for music discovery. This is a free app and you can get this app on Google play.
Ganna:
Ganna is one music app which is quite popular for the android users. You can get a massive music library in this app where you can get different languages of music. You can also save music for offline use in this app. This is a free app and best for music lovers.
Saavn:
Saavn is another top music app which is famous among people. This is always better for the Indian music lover. In this app, you can easily get old and freshly release songs. You can create your own playlist in this app and enjoy songs.
Music Sound cloud:
This is an extraordinary music app where you can get any kind of music. You can also check any songs through the artist name. Here you can record your own song which is a great feature and helps a lot for the professional singer. Its features and simple user interface make this app quite popular in the market.
These are some best and most popular music downloader apps. If you are in the search of a good music app then you can go for any one of the above as per your requirements. Just check the compatibility because of it different for the iOS operating system and android operating system. Download the proper one as per your requirement and enjoy.