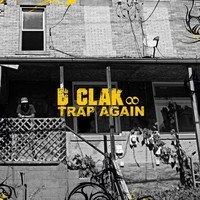 Pittsburgh born D Clak's music speaks about life on the streets of a major American city in an idiosyncratic way that doesn't smack of anyone else working on the scene today. The lyrics for "Trap Again", the first single from his debut album The Dime Piece, are individualistic and make no apologies for their point of view. Writers and performers like D Clak are arch realists. They depict their lives as they are, not as they would have them been. It is cliché to say this stuff is the language of the street set to a melodic backing track. It's more accurate to call this stuff confessional or something in a rapper/songwriter vein. D Clak mines rich material from his own life and turns it into performance gold. A track of this high quality is the culmination of ten years hard work in and around the Pittsburgh area.
FACEBOOK: https://www.facebook.com/DCLAK412/
The electronic pulse accompanying Clak's voice during the song's introduction becomes gradually more and more insistent as we progress towards the main part of the track. When the beat kicks in, the marriage of music and voice gains instant weight. There's a lot of flashy variations built into the tempo that never detract from the musical side of this experience. Creative turns keep coming in the song's second half when the beat drops out for an excellent breakdown and the dramatic contrast between this section and those preceding and following create memorable dynamics. There's no question D Clak is a compelling rapper with impressive command over his delivery, but the musical arrangement leaves just as little doubt that he knows how to write a supremely appealing rap track.
His voice is the center of the performance, as it should be. D Clak toys with syllables, elongates and cuts off words, and varies between a patient and clipped vocal style without ever losing the thread. It isn't a voice without affectation. D Clak brings just the right emotion to certain passages, a smirking confidence cutting through the mix, and the entire performance comes at you with swagger. This embodies the lyrics very well. As mentioned in the introduction, "Trap Again" doesn't make any apologies for the reality it depicts. D Clak moves through this world of hard times, down time, and the streets of urban America with a pragmatist's eye and a well honed sense of his place in it all. This single, "Trap Again", from D Clak's debut album is one in a collection of pieces that should establish this Pittsburgh native as one of hip hop's pre-eminent talents. The future of this genre is in good shape with artists that take such an approach – great hip hop depends on the rapper and his lyrics, but the lasting figures combine great talent in that area with comparable musical talents. He is never one dimensional. Instead, D Clak is a writer and performer with a wide assortment of tools at his disposal to transform his autobiography into living musical art.
I-TUNES: https://itunes.apple.com/us/artist/d-clak/id992223311
Jason Hillenburg