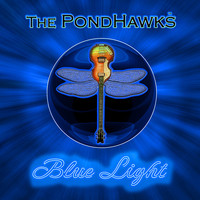 The PondHawks delve into a classic psychedelic pop sound on the spirited "Blue Light". Attention to detail is of the utmost importance as these songs positively teem with life. Possessing a great ear for melody these songs are filled with infectious hooks. Vocals serve front and center of each of the arrangements. Playfulness defines the album as the PondHawks opt for a style that at times recalls the best of the Elephant6 Collective's efforts at tapping into dreamy, shimmering atmospheres that positively pop.
Lilting guitar chords grace the album opener "Bitter Game". With a sense of defiance, the song moves forward with a catchy groove that simply does not quit. Spacious in scope is the jaunty rhythms of "Come Rain or Disarray" whose optimism is palpable. Reminiscent of Electric Light Orchestra's gentle approach is the stylish work of "Future In Our Hands" whose sweeping synthesizers work wonders. Featuring a slight western twang is the introspective work of "Orange Sunset Time". Easily the highlight of the album is the ornate arrangement of the title track "Blue Light". Multiple patterns fit together perfectly creating a truly spirited journey. Quite epic in scope is the stately "Far Away". Featuring a rather joyful funhouse of melodies is the loose arrangement of "Armadilla" whose twee pop persuasions are quite lovely. Closing the album off on a high note is the satisfying work of "Incredible Dream".
"Blue Light" shows off the power of the PondHawks in creating carefully crafted narratives.
http://thepondhawks.com/PondHawks/enter.htm
By – beachsloth.com