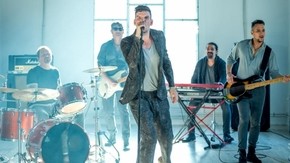 VAMA is an independent top Romanian rock alternative band. It was founded in 2006 by award winning actor and musician Tudor Chirila and guitarist Eugen Caminschi who split up from VAMA VECHE, a highly appreciated band founded in 1996.
Continuing the tradition of the former band, VAMA became one of the most beloved local groups. Through its shows and music, rebels and dreamers alike have found their escape. The band's music is highly associated with the sea. Sometimes furious, other times calm, yet always completely free – this is the spirit that VAMA embodies. And this made it popular for more than a decade. The band performs for people who speak their minds and then sing aloud about it.
"Bed for love", Vama's first single was released in 2007 and a year later the band released its first self-named album. Their second album, "2012", was very well received by fans and critics. In May 2013 Vama released "Perfect fara tine" a hit song that topped all the Romanian charts and spent 26 weeks in Mediaforest Top 10. In December 2013 Vama released its first Live DVD from the Bucharest Palace Hall. In 2015 Vama started working with the English music producer James Lewis (Arctic Monkeys, Rudimental, Sunset Sons) for its third studio album and the first one exclusively in English. This move is aimed to expand the band into new territories for which the Romanian language would've been a barrier.