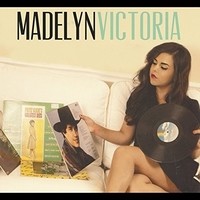 On Madelyn Victoria's debut EP she sings country with true grit. From the slide guitar to the tender fiddle work, everything comes together in such a satisfying way. Throughout it all it is her lovely inviting voice that truly serves as the EP's heart and soul. Catchy hooks and unforgettable melodies permeate each of the pieces. Relationship ups and downs serve as the song slowly unfurl. Many of these pieces possess a clear and concise narrative. When taken in as a whole the songs reveal a life fully lived.
Introducing the EP on a smooth note is the gentle determined sound of "Hold On". With great spirit the song emphasizes exactly how to work with a significant other through the good times and the bad. A sense of play defines the celebratory spirit of "Breaking My Heart Again". Possessing a jovial rhythm, the song drives on with great fervor. Her vocals feel particularly fine on here as the overall energy reveals a familiarity with what the world has in store for so many unfortunate souls, of how the best thing to do it simply laugh at how often it happens to everybody. By far the highlight of the collection is the freewheeling flirtatious "Wild Ride" whose carefree spirit is infectious. Ending things with a folk-tinged approach is the delicate fiddle work of "Sand in a Bottle".
https://itunes.apple.com/us/album/madelyn-victoria-ep/id903674713
Showing a little bit of country music's future Madelyn Victoria's debut EP is a pitch-perfect diamond lovingly delivered.
http://www.madelynvictoriamusic.com/