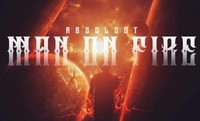 Absoloot displays an impressive mastery of flow and lyrical might on the luxurious "Man on Fire". Effortlessly combining elements of dub, R&B, and hip-hop into a glorious whole, the song lingers in the mind long after it is over. Delivered with a sense of passion, the narrative of "Man on Fire" explores how a relationship can develop. Bringing everything together is a pop sensibility that informs the whole piece. Quite cleverly, Absoloot lets the song grow larger and larger, matching the power behind the words.
The song opens with glistening, airy arrangements. Synthesizer stabs introduce the song as it explores the spaciousness of the sound. For the few moments, the song possesses a dreamy quality to it. Absoloot reflects upon the fire that lets a person know that they truly care about, that they are truly desired. Layer upon layer of sound shift in a mystical way as they remain subdued to the potent lyrics that dominate the track. Percussion is emotional in execution. Kept slow, the tempo roll through with a true sense of purpose. Melodies bounce off each other, nicely staying in flux to further emphasize the overall heft of the words. Over the course of the track the song gains a greater sense of hope and purpose. Towards the end of the piece everything else is stripped away leaving the heartfelt vocals that serve as the center of the track.
"Man on Fire" shows off Absoloot's ear for melody alongside his fiery delivery.
By Beach Sloth