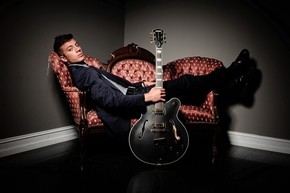 In 2016, Alex and his new alternative sound, inspired by indie, pop, and folk, made its debut at the For The Love Music Festival, followed by an appearance at the Undertow Jam Music Festival, garnered attention from notable outlets such as BalconyT and Music Ate the Nation. With influences ranging from Coldplay to Vance Joy, Arcade Fire and more, Alex Di Leo and his band bring their fans uplifting songs that get fans singing along to enchanting, hook-filled melodies.
1. Who are some of your top 5 musical influences?
My top 5 influences would be.
Coldplay
U2
The Killers
One Republic
Vance Joy
2. How would you classify your music?
I'd say my style of music is more of an Alternative/Indie Rock/Pop vibe with a consistent folk style running throughout.
3. What do you want fans to take from your music?
I'd like my listeners to get a positive message and vibe through my music. I'm constantly thinking of how short our lives are and how important it is to experience new things, take risks, and to not be afraid of what could go wrong, but what could go right.
4. Can you tell us a bit about your latest album? How does it differ from your previous work?
My latest EP is the first piece of work that I'll be releasing as a singer-songwriter. About 3 years ago I was in a hard rock alternative band and we had released just one EP then started recording another EP, but the group ended before we could finish it.
5. What is your favorite thing to do when on tour and why?
I haven't experienced a tour yet but I am planning on it in 2017. I think my favorite part about touring will be the traveling to new places, along with all the new fans I will meet.
6. What is the best concert you have been to and why?
The best concert I've been to was 4 years ago when Coldplay was doing their Mylo Xylo Tour and came to American Airlines in Miami. At the time I was dating a girl and I remember I only said one sentence to her the whole concert..I was in awe. Goosebumps the whole time and I can't wait to see them again.
7. What do you like most about playing live?
What I love most about playing live is the energy I receive through feeding off the crowd. Last week I played a show at Stache, a club downtown Fort Lauderdale, and it was my favorite show I think I've ever played. I've never felt the energy and positive vibes as much as I did that night. I was having the time of my life..so many people were dancing, singing along, and having a great time overall and that made me happy to see that.
8. Which song on your latest release is your favorite and why?
Personally I really gravitate towards "Waking Up" which is the last track on the EP. Waking Up is about longing for your better half. Being able to share intense feelings with them. It's the one song that really drives the most. I like the way the music is very upbeat but the lyrics are almost depressing..so it's a nice contrast. Josh Diaz, the producer really pushed me to do this song and I can't thank him enough for doing so.
9. Tell us about your songwriting process?
My typical writing process usually starts with a vocal/instrumental melody popping into my head. From there I'll think of what could come after or before that part, which solidifies what that part of the song it becomes. The best is when complete lyrics come as soon as the melody arrives.
10. What makes a good song to you?
A good song to me consists of a great story line or idea, along with many catchy melodies, that the listener is able to walk away with and hum while going about their day. I think as long as the song leaves people feeling some sort of way, whether it's inspirational, depressing, exciting, or loving..it becomes a good song.
11. So tell us what's next?
There are so many things coming up I'd have no idea where to start. As far as the near future I just released my single "I've Been Waiting" on all streaming platforms..So if you like the vibe, I would love for you to pick up a copy in the online stores, rate & review it..I wanna hear your thoughts! Next month, October, I'll be releasing my second single "Waking Up" and a music video with it..which I can't begin to tell you how excited I am to share it with you. I just finished filming it two weeks ago, it was such a great time. After that my debut EP "So We Go" will be released on Nov. 4th..I'm thinking this will be one of the greatest highlights in the passed few years..from there.. more songs, videos, shows, and more fans hopping on board. Feel free to subscribe to my website at www.alexdileo.com.