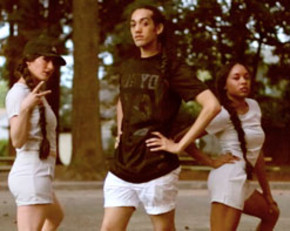 Joshua Hatkins began penning rhymes at 16 and hasn't stopped since. This story might sound somewhat unremarkable, but while most artists strive to emulate their idols, the rising Portland, OR rapper has worked hard to carve out a lane all his own. With an impressive and completely unique sound that lands somewhere between the realms of hardcore hip hop and Top 40 pop music, Hatkins' knack for masterfully blending influences from various genres, cultures and time periods sets him far apart from the competition. Feeling both new and refreshing yet familiar and classic, Joshua Hatkins is one of those extraordinary rare emcees that needs to be heard.
http://www.facebook.com/JoshuaHatkinsOfficial/
After dropping a series of well-received remixes of popular songs this past summer (Chance The Rapper's "No Problems", Justin Bieber's "Company"), it has all lead up to the release of "Time to Waste", the powerful single off Hatkins' long-awaited upcoming mixtape Pop Boy Rap. Showcasing his signature sharp, yet laid back flow, "Time to Waste" paints a vivid picture of his dealings with a girl fighting for his attention. This relatable song features one of the catchiest choruses in recent memory, and manages to connect with just about anyone whose ever been forced to juggle commitments vs. temptations, ie: everyone. In a nutshell, the song perfectly captures the vibe of balancing.