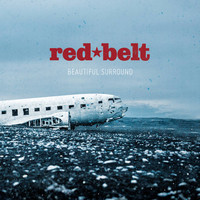 The Milwaukee based four piece RedBelt seamlessly blends together a number of musical styles into an unique brew. Alternative rock, Americana, some pop punk leanings, and a smattering of classic rock come together over the course of the thirteen songs on their debut Beautiful Surround and fit quite nicely without any rough patches where the mix fails. This is the result of a band with clear songwriting and musical vision – they have a bead on what they want from each song and the talent to get there. The four piece configuration has served bands of RedBelt's ilk well for decades and collections like Beautiful Surround only serve to underscore its continued relevance.
"Crossed Wires" comes blasting out at listeners looking for someone's head to take off. This is high octane rock with a sharp punk edge, but there's also an abundance of technique at work here that focuses the band's energy towards giving the song a shape and form. Lead singer and rhythm guitarist Kevin Brown has a strong, rambunctious vocal presence and lead guitarist Mike Mann makes a great match for him thanks to incendiary six string work. "American Mercy" is one of the most lyrically interesting tracks on the album and has a real Midwestern rock stomp vibe that starts from the first bar and never relents."Shoot It All The Time" continues that Midwestern rock feel, but it's a little less cluttered than the aforementioned track and incorporates surprising bluesy strains that make it even more memorable. The chorus here is a wonderfully energetic high point.
The title song is similar to the preceding track, but it has a much more anthemic feel than "Shoot It All the Time" and, naturally, the chorus connects with listeners in an even bigger way than before. RedBelt is a band who eschews overblown, epic songwriting while still proving themselves to be quite adept at making both substantive musical and lyrical statements. "Sweet Release" revisits the pop punk energy that they summoned on the album opener, but it's even meaner and streamlined than the earlier number. Drummer Jeff Holden continues distinguishing himself with superb playing on the track "Cold", another pop rock gem that doesn't aspire to the same energy as the album's punkier numbers, but nonetheless jets off into the stratosphere with great feel and pacing. The classic rock vibe on "Pretty Little Pieces" has another great chorus on an album filled with them and Mike Mann's punchy guitar dials up the raunch some without ever veering off course. "Golden Sidewalk" exhibits more of their creative songwriting and has compelling rhythms that immediately draw the audience into the song's web.
Despite clocking it at a little less than four minutes, the album closer "Hard Light" has great dramatic qualities and truly plays like Beautiful Surround's natural closer. RedBelt has scored big with a debut that doesn't betray any overly obvious influences but yet sound reassuringly familiar throughout. Beautiful Surround will find an audience with anyone who loves intelligent rock music played with the brash confidence it deserves.
9 out of 10 stars.
INSTAGRAM: https://www.instagram.com/redbeltmusic/
Jason Hilenburg