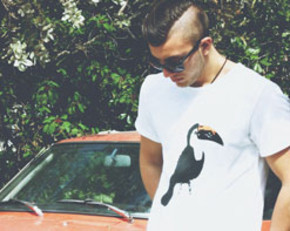 Like many stellar artists before him, Alex Di Leo had to let go of everything he had known and created in order to find his true voice. His journey began as a part of the reputable South Florida rock band Wyld Fly. It was an enlightening and rewarding journey, but the time had arrived for Alex to step out onto his own and use the lessons he learned to create an even bigger, more ambitious sound. The first offering of his new solo project is the gorgeous new video for "Waking Up."
His new project pulls inspiration not only from his experiences traveling, but also turned to artists such as Coldplay, Vance Joy, Arcade Fire and more. On his new EP, So We Go (11/4/16), Alex has crafted a sound that is equal parts indie, pop, and folk. Regardless of whatever type of genre he's invoking, the core of Alex's sound is still his ability to write infectious, mesmerizing songs.
The weightlessness of Alex's music is a signature part of his sound, so it's appropriate that for the new "Waking Up" video Alex recreated that feeling on a grand scale. It begins with him drawing a bath and without hesitation stepping in fully clothed. As he lies submerged up to his chin, shots of a mysterious female can be seen floating underwater. He's determined to reach her one way or another, even if it means completely giving himself in to the watery world below.