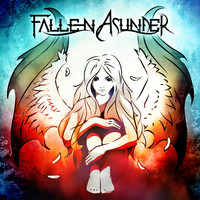 Delivered with a sense of urgency, Fallen Asunder's self-titled album is a cinematic sweeping work. Fallen Asunder screams out to the heavens as the vocals soar above the colossal riffs and driving rhythms. Over the course of the album they create a vast tapestry of sound one that swims through seas of guitar distortion, unstoppable tempos, all which hint at a great sense of tragedy. Attention to detail results in some startlingly beautiful moments where Fallen Asunder appear to try to rise above the darkness that permeates many of the pieces. Elements of post-rock, metal, hardcore, and even a dash of thrash are tied together to create a truly satisfying body of work.
A full-on blast of drums and brutal blistering guitar work opens the album off on the energetic "The World And Fate". Hinting at gentler pastures is the shimmering optimism of "Our Ghosts". Kaleidoscopic in its execution is the effortless glory of "Meant For So Much More". Much more reflective is the spirited ambient open of "Silent Lies". Over the course of the piece Fallen Asunder does fantastic work in creating a massive, beautiful buildup of sound. Romantic in scope is the lovely tenderness of "Upon Your Stars". With a nostalgic hue to it is the golden amber of the caring narrative of "In Your Depths". Closing the album off on a high note is the album highlight the grandeur of "Blinded Eyes".
Fallen Asunder's intensity is unmatched on their passionate and powerful self-titled album.
By Beach Sloth