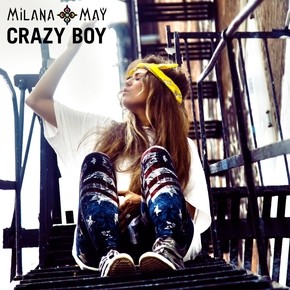 Milana May is an unconventional singer-songwriter/producer from Siberia, Russia. Described as "The Siberian Icebreaker" she broke through all resistance, limitations and old programming and gave birth to her own current innovative sound that blends different kinds of dance music music with a shamanic, mystical, raw, lore vibe. Likewise, her lyrics are multilayered, melding the lifestyle concerns of a hip, young, urban New Yorker with the esoteric symbolism of folk mythologies.
With her last single for "Joy," Milana flexed her musical muscle and showcased her unique upbringing as the daughter of classical musician coming of age in a post-Soviet era and rapidly infusing herself with pop music and western culture. With literally a world of influences at her disposal, she ultimately crafted a sound that is rooted in the EDM and downtempo world but also isn't afraid to inject a broad range of influences.
Her new single, "Crazy Boy," is a slow burn with an infectious, jazz-infused push beat holding down the fort. There's enough layers to make even the most devoted classical music fan take note, but it's really all about Milana's sizzling vocal performance. The main melody is a brilliant palette, and the alternating harmonies and call & answers soak the vocals with a delicious layer of color and vibrance.