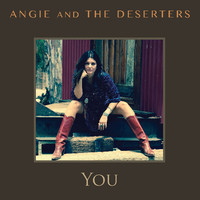 The latest release from Angie and the Deserters, a six song EP entitled You, continues to build on her rapidly blossoming reputation as one of the best vocals working today within the Americana genre. Her voice has remarkable versatility – she is as adept at gentle balladry as she is bucket of blood blues, ala Joplin, and her compositions are distinguished by writing that embraces familiar elements and strongly personal qualities in equal measure. Her musical collaborators are an equally talented lot. They more than capably support Angie throughout the release and excel when given a chance to shine, but these are song-first musicians who resist virtuoso trips of any sort and, instead, look to enhance and build on what Angie's songs require and accomplish. She is well served by outstanding production that gives her vocals the intimacy they deserve while still maintaining an entertaining balance between her singing and the musical accompaniment.
FACEBOOK: https://www.facebook.com/angieandthedeserters
The first song "Stay" is notable for many things. Angie's voice completely inhabits the experience of the song without ever playing it for melodrama. Much of this is attributable to her talent for phrasing things with just the right emotional amplitude and never attempt to overshadow the music around her but, instead, complement it. This is simply some solo vehicle in disguise. Angie and her cohorts show the genuine artistic chemistry they share in one fell swoop. The song never panders while still retaining enormous commercial potential. There's a strong melody carrying much of the song that the lightly mournful violin accentuates, but the song's emotional impact comes honestly from the beautiful, pitch perfect simplicity of the lyric and her vocals.
"Forgetting to Forget" opens with an acoustic sound and a deliberate pace. The patience that the band and Angie alike show in developing the opening pays off as the song starts its inevitable shift into a higher gear. The higher gear arrives with the first chorus and its airy melodic climb culminates in a very satisfying way. The title track opens a delicately structured waltz and Angie locks in with the distinctive tempo to great effect. The transitions from verse to verse are artfully handled and the drumming perfectly underscores the song's aims. Listeners get their first uptempo Americana rocker with "17 Days" and we're definitely returning to classic country territory. Angie's lyrics conjure images of open highways, dimly lit motel rooms at dawn, empty beds, and a relaxed yearning in the musical presentation and singing that the understated lyrics play nicely with.
"Goodbyes" is a perfectly orchestrated finale moving slowly from a beautifully assembled acoustic opening into a dramatic chorus and a grand pop country zenith that never feels cheap. In the hands of lesser artists and performers, these sorts of moments in the genre feel impossibly calculated, but there isn't a single moment on You that feels premeditated or false. Angie and the Deserters clearly mean every word of the six songs on her latest EP and the songwriting just continues to improve. If this is a prelude of work to come in the near future, the future is very bright.
VIMEO: https://vimeo.com/187024943
4/5 Stars
Jason Hillenburg