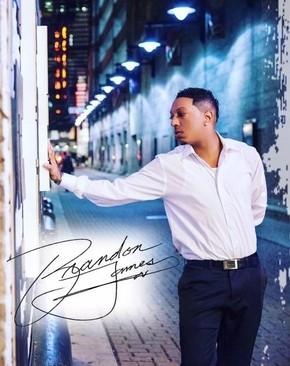 Hello there amazing music loving people of planet earth. It is so good to be here today. So I must admit something, I finally tried Spotify last night on my Amazon Kindle Fire. All I will say is that from a music business standpoint I am horrified, but as a music consumer I am thrilled. Now today we have an amazing talent by the name Brandon James by way of Chicago. But before we get to that lets talk music news. ASCAP, the American Society of Composers, Authors and Publishers, the world leader in performing rights and advocacy for music creators, announces the Digital Team, which reports to Alice Kim, ASCAP's Chief Strategy & Digital Officer. The Digital Team, comprised of the Digital Product & User Experience Group, led by Dena Fletcher, as well as the newly created Data Strategy & Business Intelligence Group, led by David Frigeri, will harness ASCAP's rich data and other assets to make ASCAP's music licensing, royalty collection and distribution processes more transparent and efficient for members and licensees. The Digital Team has launched its first new tool, a redesign of ASCAP's public repertory database, ACE. In other news, Shazam, one of the world's most popular apps, today announced significant financial and user milestones. "Transitioning our business model to advertising, achieving profitability and crossing one billion downloads are the result of the tremendous efforts of our team. We remain relentlessly focused on delivering magic for our users and results for our advertising partners, and couldn't be more excited about our future." Now lets get to the music of Brandon James. When I heard Brandon's single "Something In The Way" I knew this musician is the real deal. Brandon has been promoting his LP 'The Soul Sessions' which is hit after hit. Do yourself a favor and join us today as Brandon speaks on winters in Chicago, creating Brandon James, the 2016 election, and so much more!
Stoli: Where are we talking from today and are you ready for fall/winter time?
We are talking from my studio in Chicago and I'm never ready for Winter or fall lol. I've always been a warm weather type of guy!
Stoli: I know winter in Chicago can be brutal, how do you keep warm & sane?
I stay busy and I try to travel often. When all else fails I just try not to think about it.. lol
Stoli: At what age did music become more than a hobby and that you had a real talent?
I was about 11 years old.. I learned that there is healing in music and everything in me wanted to be apart of that musical experience. That's when I realized I didn't wanna do anything else with my life..
Stoli: Why did you go from Brandon Foster to Brandon James?
I wanted to create a separation from who I was or who I've always known myself to be and create an image that was stronger and more confident than what I feel I actually am.
Stoli: Would you say that your family/friends support your musical and did you grow up around music in your home?
My family has always know I had a love for muscular but they never took me seriously until my college years and I was honestly ok with that as that pushed me to motivate myself a lot of the times. I did have a pretty musical family but not directly in my home. Most of my musical influences are external.
Stoli: When I hear you sing I think of the legends like Luther Vandross. What 2 artists do you admire and listen to today?
Oh wow thank you!
2 artist today I admire are John Legend and Mariah Carey. They are the embodiment of the type of artist I aspire to be.
Stoli: Your new LP 'The Soul Sessions' is out now and it is remarkable. How long were you writing & recording that collection?
The process to make that album took a few years.. I didn't want to rush anything and wanted to have a strong body of work to represent my artistry as this would be the first time many would hear me.
Stoli: From someone new to your music what does your sound & lyrical content offer that they do not have with other artists?
My music no matter how sultry, Sexy, or upbeat always has an underlying inspirational tone behind it!! I want people to feel good and expect good vibes every time they listen to me. My main purpose with my music is to relate and inspire..
Stoli: If you were to do a full blown video for one song on the LP what would it be?
If I had to pick a song from my LP I would chose "Love Rising" it's such an amazing song and I feel that good/creative video production could only enhance the experience of this song.
Stoli: I love your song "Something In The Way." What inspired you to write the lyrics and who created that amazing beat/instrumentals?
The track was made by bear makers "AllAroundaProductions" and I wrote the song from a honest place. The song tells a story of how love and life can cause a person at times to go off the rails emotionally. The song also describes the effects of this and how it can put you in a bad unproductive space.. ultimately the moral of the story is to detach yourself from those negative relationships they can be poisonous and distracting to your growth.
Stoli: While going through your musical assets I saw 'Chicago artist gives five startling facts on current gun violence in the city.' How much of this violence is due to the fact that most of these kids grow up with no positive male father figures and a struggling single mother?
I feel that has a lot to do with it! When a person lacks something they tend to fill that void with something whether it be healthy or unhealthy. Coming from a place where my father wasn't around and I had a single parent household I can attest to just that. That's why I believe music, sports, dance, and other creative outlets for kinds and teens are important because music literally was my saving grace and urban youth need to know that life has way more to offer them and that the streets and gangs only lead to a wasted life.
Stoli: In this election coming up what are two crises that the US is facing that you hope get addressed?
Race relations and Gun Violence.. Ultimately accountability for people in office who have been allowed year after year to abuse their power or contribute nothing to betterment of this country and its citizens.. The two issues I named are symptoms of dysfunction we can no longer ignore in this country.
Stoli: What is coming up for Brandon James and where you @ online?
I have a Major show at the "Double Door" in Chicago and I'm also hosting my own monthly event called "Soulful Sundays" which Is a huge platform for artist like myself who don't always get booked or treated like that should. I can also be found on
http://www.branddo20music.com
http://www.facebook.com/branddo20