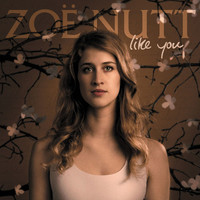 Knoxville raised Zoe Nutt is a guitarist, songwriter, vocalist, and storyteller. Her debut album Like You bears full evidence of the fruits harvested from her life experience and her tenure as a student in the renowned songwriting program offered by Nashville's Belmont University. The album's eleven tracks are a rich compendium of country, pop, and folk influences filtered through the consciousness of a writer who likely would excel turning a pen towards anything. Nutt's abilities with melody, language, and narrative make this an exhilarating storytelling, as well as musical, experience. Few artists, in any genre, can be so fortunate as to have a first release that aims so high and hits its mark every time. Zoe Nutt is far removed from the lowest common denominator school of country/Americana songwriting. Instead, she possesses a robust artistic vision that transcends labels and excels in many satisfying ways.
The opening song "Nothing I can Do" starts off quite delicately with Nutt's higher register voice essaying the first lyrics acapella. The band slips in like a glove being slowly drawn over a hand after a little under of minute of introduction. They strike a deeply musical, but understated groove that allows Nutt's voice room to roam and weave melodic magic. The same lo-fi musings continue on the improbably titled "Antique Soda Pop Love". This is much more of a solid narrative than the opener and reveals aforementioned additional facets of Nutt's talents. Like the first song, Nutt specializes in delicately crafted musical landscapes replete with melody, but this has a dollop more urgency than the earlier song. "Look the Other Way" is a beautifully executed torch song blues allowing Nutt an opportunity to expand her singing in new directions. Her sensuous, light bluesy growl invests the lyrics with real gravitas and perfectly complements the backing. Her collaborators here, as elsewhere, are top shelf musicians capable of conjuring atmosphere with a few judiciously placed musical strokes.
The title song has a slightly artsy edge. It has a soft, thoughtful edge and a vocal performance investing it with great feeling and elegance while the arrangement moves with melodic, almost poetic beauty. "Bones" has an acoustic slant and a light bluesy feel quite unlike what listeners discovered on "Look the Other Way". Nutt modulates her delivery accordingly and unravels a gentle blue lament with impeccable phrasing and the perfect emotional stress. The sparse mood dominating much of the album continues on "Denial", a muted, very introspective song with haunting lyrical beauty. Another outstanding vocal from Nutt underscores that lyrical beauty. The album's finale, "Dearest", initially presents itself as another low-key acoustic turned saunter, but it unexpectedly shifts into a higher, wider gear in the song's second half for a rousing full-band finale. It's a microcosm of how well this album is structured as a whole. Like You moves from strength to strength and highlights an artist who's first album is good enough to rank as a career highlight for older artists. The sky is the proverbial limit for Zoe Nutt and the first step towards realizing that limitless talent makes Like You an incandescent experience.
9 out of 10 stars.
TWITTER: https://twitter.com/zoeevenutt
Jason Hillenburg