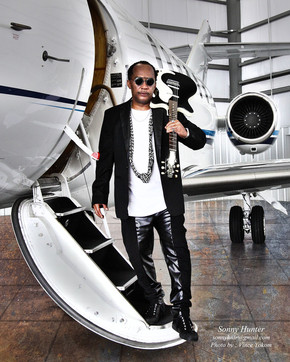 Emerging with popularity, solo artist Sonny Hunter is a Lead Singer, Lyricist/ Songwriter, Rhythm Guitarist from Houston Texas/USA.
Being influenced by artists such as The Commodores, Yes, VanHalen, Trapeze, Sly & The Family Stone, Jeff Beck and David Bowie, with the latest production from Sonny Hunter it is obvious the quality of musicianship he has assembled, can turn on a dime offering audiences a blend of talent from Pop Rock, RockFunk to Classic Rock songs.
Once you see and hear Sonny Hunter and his band, you realize that they are crisp, bold, spot-on players who can turn on a dime when necessary."
Quoting Roger Daltry/The Who, "With the world in such a state of flux, I get puzzled that people are saying so little in music."
The lyrical story behind "Times in Life" started with the passing of the Grandfather of Sonny Hunter who was a General Practitioner in Columbus Mississippi and a family friend made the statement "I remember when life wasn't so confusing", reflecting on the medical awareness of Cancer in the early 70's.
Hence the lyrical & musical journey of "Times in Life".
"Times in Life" by Sonny Hunter is a rock anthem, celebrating those who have and are battling Cancer. Yes, Cancer just got ROCKED! Songs will finish, Applause will roar and Shows will end. "But people will never forget the music and musicians that touched their heart & soul".