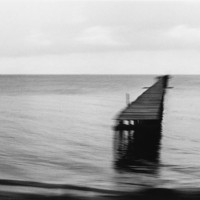 On "Days Like These" Flight Feathers neatly tie together elements of classic rock, folk, and chamber pop into a lovely whole. Reminiscent of Grizzly Bear's stylish thoughtful take on pop, the pieces teem with life. Layer upon layer of sound interact ever so gracefully as their playing reveals a band that listens to each other. A sense of optimism permeates the album as the songs appear to drive forward into ever sunnier terrain. This hope is what truly comes to define the album as the soothing vocals and giddy melodies work in perfect harmony.
Aptly named "Bright City Lights" possesses an urbane charm, courtesy of the tasteful horns used with deft skill. On "Dead and Gone" Flight Feathers bring a western twang into the mix of things as the languid tempo gives the whole thing a reflective, meditative quality to it. Full of energy is the brilliant brightness of "Hurry Up" where Flight Feathers have a mellowed out vibe that recalls the best of Ducktails sweet celebratory sound. Easily the heart of the album is the fragile buildup of "Burning" where the articulate lyrics define the song's ambitious journey. Intimate in nature is the stripped down sound of "Days Like These". Calm and cool is the reassuring spirit of "Ashes and Dust". With "As Long As I Have You" Flight Feathers tie together all the many pieces of the album into a satisfying lullaby of sorts.
With "Days Like These" Flight Feathers prove to be capable of a great many things.
http://flightfeathersmusic.com
By Beach Sloth