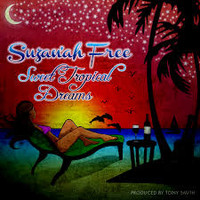 An artist environment always influence their music. Sometimes they take what they see and translate into their lyrics or in the case of our upcoming artist, Suzan'ah Free, their music. The album's title couldn't be more explicit as our FL takes inspiration from the warm state and in some way pays tribute to the local scene, to the sound The Sunshine State is known for and is, you guess that right, it's Latino flavor. As you dig down further into the record, you would notice as I did that Sweet Tropical Dreams stays short and gives a very limited picture of its content.
URL: http://www.suzanahfree.com/
The album kicks off with "No Ka Oi" with it's Tex-Mex sound reminiscent of iconic artists such as Selena, the melodic guitar riffs blends with Free's particular, somewhat mellow vocals that fits so well with every song on this material; "Seaside Serenade" it's everything but cheesy with its upbeat, kind of electronic sound that honestly caught me by surprise as I wasn't expecting that; "Wiki Wiki Wiki" has a heavy Hawaiian vibe with the island's particular rhythm guitars and overall sound. The rest of the track as eclectic as it can be, there's a very nice cover of The Tokens' overly famous song "The Lion Sleeps Tonight (Wimoweh)" that feels like an original rendition rather than a note-by-note copy. Also, as we keep digging more into this record, personally I had this impression as if Suzan'ah was kind of doing what Elvis Presley did few decades back with his Blue Hawaii record, rather than making a tropical record he kind of blended rock, blues with the Aloha's sound.
There isn't really so many negative things to say about the album, the album as a whole was a sweet surprise to me as it exceeded my expectations, which honestly were almost none. One thing though is that while the album kicks off with this very tropical elements that makes justice to its title, it slightly and subtly changes into something else, almost like a Ballad album. And don't get me wrong, the change is good and if you carefully pay attention the record does feature some tropical beats and song titles – but overall, it turns into a whole different thing and if that was Free's intention from the beginning I believe it would have been great to come up with a different album's title as the one she uses becomes misleading after a while.
In the end, this is an album for those who enjoy fun and moody music, those who are into Adult Contemporary might this material as well. However, truth be told, many youngsters out there might find it pretty boring and out dated, though I am sure Suzan'ah Free would have zero issues with that as that isn't the audience she's seeking to captivate. The music isn't perfect but it's very cool and the fact that she keeps playing with the tempo and style between songs helps audience stay awake and also make it very dynamic.
FACEBOOK: https://www.facebook.com/SuzanahFree
by RJ Frometa