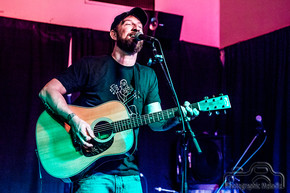 Hello there and welcome to a new week and some new music. This week we have the very talented Moedell. I must confess that as I get older my personal taste in music is changing. I still love & listen to all music but I am noticing I gravitate towards music I can relate to in real life. Now before we chat with Moedell lets get some music news. Canadian and international music companies have settled litigation against isoHunt Web Technologies Inc. and its founder Gary Fung with the entering of orders by consent against isoHunt and Fung. The settlement ends a lawsuit filed in 2010 alleging substantial copyright infringement of music on the isoHunt site, as well as an opposing action filed by isoHunt and Fung. isoHunt and Fung agreed to a court order finding them liable for infringing the music companies' rights in their recordings, which were made available for BitTorrent file-sharing through isoHunt's websites. Fung and isoHunt further agreed not to be associated with any service that makes the music companies' recordings available without authorization, including by BitTorrent or any other file-sharing technology. In other news, Star 1 Group and its parent company Star 1 Records LLC. announced in a statement today the new artist discovery platform originally launched as Viacom TV has been rebranded as Music 1 Television. The reason for this change is to prepare for our launch on Roku and Dish Networks. We will continue to offer delivery for review of music videos to MTV and CMT programmers, however, the change to Music 1 Television will differentiate us from Viacom and MTV and establish our own identity as we move forward with our commercial broadcasting plans, said Laura Patterson, President of Star 1 Group and CEO of its parent company Star 1 Records LLC. Now lets get to the music of Moedell. Moedell new album "LOCAL" is out and doing well with songs like 'Stranger Than Fiction', 'Devil's Lake', and much more. Join me as we are hunting, fishing, and playing some awesome music. Lets go!
Stoli: Where are we talking from today and how is your summer going so far?
M: I'm in a little town called Big Lake, Minnesota. The summer so far is great, lots of outside shows. Thank you very much for speaking with me, I hope your summer is going well.
Stoli: The US is currently in a heat wave, how do you cope when the temps get above 90 degrees?
M: I stay near lots of water. Either submerged or fishing, and eat lots of watermelon. I don't mind a little sweat though. hahaha
Stoli: What was life like growing up in Virginia and what music was playing in your home?
M: Virginia is a beautiful state. You basically get it all. Beaches, ocean, mountains, and lakes. We were always outside doing something. There was always lots of fishing and crabbing as a kid. Lots of BBQs and always old country music playing, Johnny Cash, Waylon Jennings, Willie Nelson, and plenty of old bluegrass (Earl Scruggs and Bill Monroe). I was raised by my Grandparents and mom so the old country music came from my Grandparents, and my mom would always be listening to things like Fleetwood Mac, Marshall Tucker, and Emmylou Harris.
https://soundcloud.com/moedell
Stoli: You started out in a band but then went solo in 2004, are you pleased that you chose to go it alone?
M: Well I do love a good band, but solo is easier. It was hard finding musicians that were dedicated, so in that aspect I am 100% pleased I went it alone. Plus if I would have never gone solo it makes me wonder if I would have ever gotten back to the old roots of Country and Americana. Everything happens for a reason.
Stoli: When you are in studio or playing live what musicians do you like to call in to play with?
M: In the studio I try to keep it as live as possible, so I tend to bring in the guys I play live with. It's various musicians but the core is always the same few. The majority of the songs wind up being Mike Lardy (engineer/producer) and myself playing most of the instruments. The other musicians are brought in to finish the big picture.
Stoli: Your new album "Local" is out now. How long were you writing & recording this album?
M: Well the writing went very quickly but the recording took awhile because I had never put out music like this before. I wrote about 20 songs and only 9 made it on that album. I just wanted the right flow to tell my story and those 9 just felt right.
Stoli: I felt a connection to "Where I Come From." Offer us insight into what inspired you to write that song?
M: I'm the only one in my family who doesn't live back home on the East Coast, so I miss them greatly. Basically my family is my biggest inspiration. "Where I Come From" is 100% fact. Every line in that song actually happened, and as a kid I loved The Dukes Of Hazzard and Smokey and The Bandit, so I had to through that in the chorus.
Stoli: If you were to do a full blown music video for one song on the album, what song would that be?
M: More than likely "Where I Come From" so I could have the family in the video. They're characters let me tell ya. Second would probably go to "Devil's Lake" because I like how fast that song is and underneath it all it's a song about losing love but not in a sappy way.
Stoli: We are living in wild times, how do you make sense of the state of the world right now?
M: I'm not a fan of all the anger and hatred. Too many people quick with pulling guns and calling names and just being hateful. There is a huge lack of respect for human life. Sometimes the simple things like a good handshake or a smile can make the world of difference in someone's life or asking how someone's day went. If everyone could just kill with kindness. Maybe a good song is what the world needs. hahaha
Stoli: What is coming up for Moedell and where you @ online?
M: Well I am getting ready to start recording the next album. It's called "Logan Drive". It's pretty much a continuation of "Local" with a few twists. Other than that just playing a lot of shows and hopefully traveling a bit more this next year. heading home to see my family. You can always find me on WWW.MOEDELL.NET, and on Facebook, Twitter, and I personally love Instagram. Thank you very much.