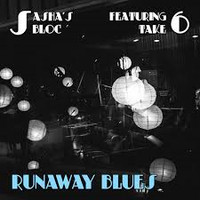 Formed in 2012, the Los Angeles based big band Sasha's Bloc has been wowing audiences worldwide with their own particular brand of Americana music – a chops-laden, full on invocation of popular jazz from the early through mid 20th century. This isn't intended as a purely academic, retro-fitted tribute to past forms. Instead, this is a ten piece ensemble capable of reinvigorating needlessly moribund forms with the loving care, imagination, and energy they deserve. They have released two full length albums since their debut and their latest single, "Runaway Blues", is a more than worthy addition to an impressive discography. The band was conceived by bassist Alex Gershman and features powerful guest vocalists like Jane Monheit and Alvin Chea, but their songwriting strengths are a fundamental part of their success. "Runaway Blues" is a fine outing for this collective and illustrates their various merits in entertaining ways.
Lush multi-part harmonies introduce the song before the arrangement segues into the first verse. "Runaway Blues" initially opens as a duet between piano and Alvin Chea's voice. There's a decidedly gospel-oriented feel to both the piano playing and singing that's reinforced when the remaining band falls in with the song. Upright bass and brushed percussion might seem to have a distinctly low-fi slant, but they make a deep impression here thanks to the careful recording. The harmonies return during each chorus and augment, rather than overwhelm, the central vocal. The bridge has a great lift that's aided, in a large way, by the inclusion of backing vocals, but its key moment is when it seamlessly moves into the instrumental break. The brass section erupts and gives the song an even bluesier air that soon gives way to some more distinguished piano playing veering between blues, jazz, and light hints of gospel. Even a ghostly touch of organ percolates just behind the curtain.
The lyrics are stylish without ever overreaching their purpose. One of the chief attributes of the best vocal-driven popular jazz, in my opinion, is how the lyrics are rarely reduced to a purely ornamental part of the presentation or an afterthought. "Runaway Blues" has deceptively strong narrative qualities, despite its internal focus, and complements the musical mood. The vocal takes full advantage of this through its thoughtful phrasing and consistent emotional tone. Some might be intimidated or otherwise disheartened by the level of technique commonly associated with jazz music, but Sasha's Bloc has released quite an accessible song with "Runaway Blues" and much of what makes it memorable is due to the organic qualities of the performance, in particular the vocal.
This single makes it clear that this jazz collective are one of the foremost jazz outfits working today. The cool confidence, light touch, and tastefulness demonstrated here have few, if any, parallels in the scene and their recording achievements are formidable. This is a song ideally suited for live performance and, thanks to its quality, likely raises the band's profile a great deal. Sasha's Bloc is back in a big way and likely to win many new fans with this release.
SOUNDCLOUD: https://soundcloud.com/sashasbloc
Jason Hillenburg