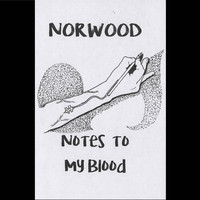 Norwood's "Notes To My Blood" is valentine to the downtrodden and wanderers of the world. All their strengths, all their faults are laid bare. Small snapshots of people, little stories, are peppered throughout the album. Tying it together is Christopher Norwood's passionate performance and impeccable arrangements. From the slow and steady to the absolute frenzied Norwood does it all and does it well.
"Prayer" opens the album up on a high note. With a prayer asking to be "as punk as fuck" delivered with true devotion the song feels like an ode to those left behind in the increasingly gentrified urban centers of the world, as the prim plastics depose the sense of community that once resided there. Full of energy is the incredible "Randolph Carter Rides Again" with particularly fine work on the violin courtesy of Hajnal Pivnick. Sung with a sense of hope is the deeply romantic "New Song". Hushed in delivery is the intimate nature of "I Never Told You" with the whispered words working wonders, as if the song is simply an internal monologue. Easily the highlight of the album is the defiant "Middle Child". Carefully building itself up it grows ever larger and more confident until its beautiful conclusion. Ending things with a slight slacker anthem is articulate highly detailed sound of "When The Time Comes".
The album can be purchased right now at:
https://norwoodnyc.bandcamp.com/album/notes-to-my-blood
http://www.cdbaby.com/cd/chrisnorwood
Urbane and elegant, Norwood's "Notes To My Blood" feels like a perfect portrait of love with a hint of anxiety.
Posted by Beach Sloth