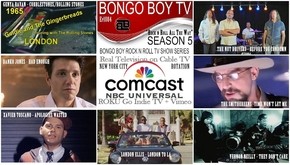 The Bongo Boy Rock N' Roll TV Show is proud to present the latest episode in their Rock N' Roll TV Show Series " Rock n Roll All The Way", featuring 7 talented independent international recording artists in 1 special ½ hour TV show. This latest Bongo Boy TV produced episode premieres this Saturday June 4th 2016 in New York City and rotated in all its 5 boroughs. This episode repeats its broadcast again on Tuesday June 7th 2016 in Manhattan on Channel 67 TWC, Channel 85 RCN, and Channel 33 FiOS.
For a complete broadcast schedule, please visit – http://www.bongoboytv.com
https://vimeo.com/channels/bongoboytv
Genya Ravan starts things off on a high note with a nod to classic rock. With lyrics that refer to rock's illustrious history, the song feels particularly warm. Combined with an infectious rhythm the song glides by with a casual cool vibe.
The Nut Drivers explore a tasteful arrangement on the impeccable "Before You Condemn". Preaching tolerance and understanding the welcoming spirit is undeniable. Sung with crystal clarity the story unfurls revealing how to treat others with the utmost of respect. Nicely weaving together elements of country and folk the piece is full of vibrant color.
https://www.facebook.com/TheNutDrivers/
Without wasting a moment, Danko Jones dives right into it with "Had Enough". Powerful guitar riffs open the song up on a strong note. Vocals rise above the relentless rhythm. A sense of defiance helps to inform the focused lyricism.
"Time Won't Let Me" shows off The Smithereens sense of play. Offering up a faithful edition of the The Outsiders song, the piece taps into a sense of a nostalgia. Perfectly done the song serves as the ultimate throwback to a perfectly tailored piece of pop.
http://officialsmithereens.com
A luxurious grand sound introduces Xavier Toscano's "Apologies Wasted". Lyrics describe the difficulties of maintaining a relationship, of all the things that can tear a person apart. Throughout it all Xavier Toscano tries to show how tricky trust can be as an element between two people. Anchored by a gargantuan beat the piece represents the best of EDM.
Pure pop perfection is what London Ellis offers with "London To LA". A bouncing rhythm serves as the heart of the piece. Triumphant in spirit, London Ellis creates an ideal kind of party spirit with "London To LA".
Ending things on a high not is Vernon Neilly's "They Don't Care". Impressive guitar chops define the piece. Stylistically varied merging elements of rock, hip hop, alongside social justice the song reveals the many problems the world faces and the oftentimes overwhelming nature of them.
Posted by Beach Sloth