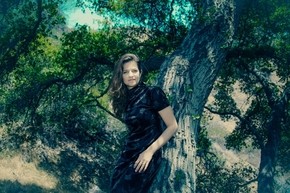 Alnilam takes its name from the middle star in Orion's Belt. The word Alnilam means "string of pearls," an ancient, poetic metaphor for the three bright stars that make up the belt; an astral image that resonates with the unearthly quality of the band's dreamy, atmospheric music.
Singer-songwriter Elena Pinto writes about themes of love, loss, impermanence, memory and transformation. She grew up in Costa Rica surrounded by nature, books, and music. As a child Elena had the notion that someday she would write her own lyrics. Her path to song writing was a winding road through other art forms and several cities. In 2011, she moved to California and began writing the songs that would give rise to Alnilam.
Indigo Sky, Alnilam's debut album, contains ten original songs Elena wrote building upon Turkish composer Serhat Arslan 's instrumental pieces. Ranging from melancholic to uplifting, to inspirational, the songs have been attracting an organic base of passionate fans from all over the world, especially on Soundcloud, where two tracks, Alnilam and Wish, made the indie rock trending list.