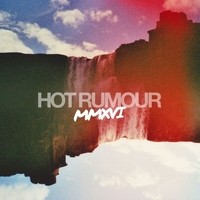 Hot Rumour's "MMXVI" sounds like a party and the afterparty put into a delectable whole. This is the kind of music that deserves to be played as loud as possible in front of as many people as possible. Absolute bliss the songs are hyperactive, giddy in nature, and incredibly catchy. Bringing it together is a combination of the just right rhythms, the swirl of sound, and the carefully crafted lyrics. However, Hot Rumour also ensures that there is a counterbalance to this, with the beginning half serving as the rush of sound and the latter half going for a more languid pace.
Review and share the full EP (due April 29th) here:
https://soundcloud.com/hotrumourofficial/sets/mmxvi
Opening the EP up strong is "Call 'Em Out". The song transforms its driving piano rhythm into a piece of dance pop perfection. An infectious groove leads the song forward as it all comes together so beautifully. "Two Days To Millennium" takes on a different approach letting the song simply dominate in full. Everything blasts forth with pure energy as the song reaches its frenzied peak towards the finale. Anthemic in tone is the gigantic chorus of "Run To Me". On "All Going To Hell" Hot Rumour turns the volume down for a bit, opting for a more introspective sound. Acoustic guitars add to the rather calm atmosphere of the piece. By the time the song comes into full electric bloom it feels particularly earned. By far the highlight of the EP the song begins the band's switch of gears into a quieter approach. "Alien" closes the EP off on a reflective note.
With a brilliant sort of balance, Hot Rumour's "MMXVI" is a smart and ultimately satisfying EP.
https://www.facebook.com/hotrumourofficial
Posted by Beach Sloth